Joint Replacement Surgery in Burbank
OSS Surgeons are the experts in performing joint replacement surgery
We will help understand your musculoskeletal condition. Because joint replacement surgery is a complex surgery and the recovery is involved, the OSS doctors will always start with conservative nonsurgical treatments. If the doctor does recommend joint replacement surgery, we will stay involved – we will help you plan all the steps involved in the surgery and recovery.

We routinely do joint replacement surgery for the

knee

,

hip

,

shoulder

, and

ankle

. We do perform

elbow

replacements, but it is a less common joint replacement surgery and there are other minimally invasive surgeries available to help treat pain and immobility in the elbow.

Our doctors routinely help patients with different types of joint replacements, including

revisions

. We perform full joint replacements (also called Total Joint Replacement Surgery or Arthroplasty Surgery), and routinely replace a part of the joint (called Partial Joint Replacement or Hemiarthroplasty).

Did you know that the length of time you spend at a surgery facility has shortened? Meaning, for some patients (depending on health condition),

we can get the patient home sooner

(leave same day that you have the surgery) so the patient is in a more comfortable setting, the home.

Many of the OSS orthopaedic surgeons have completed subspecialty training (fellowships) that have focused on joint replacement surgeries for a specific body part(s).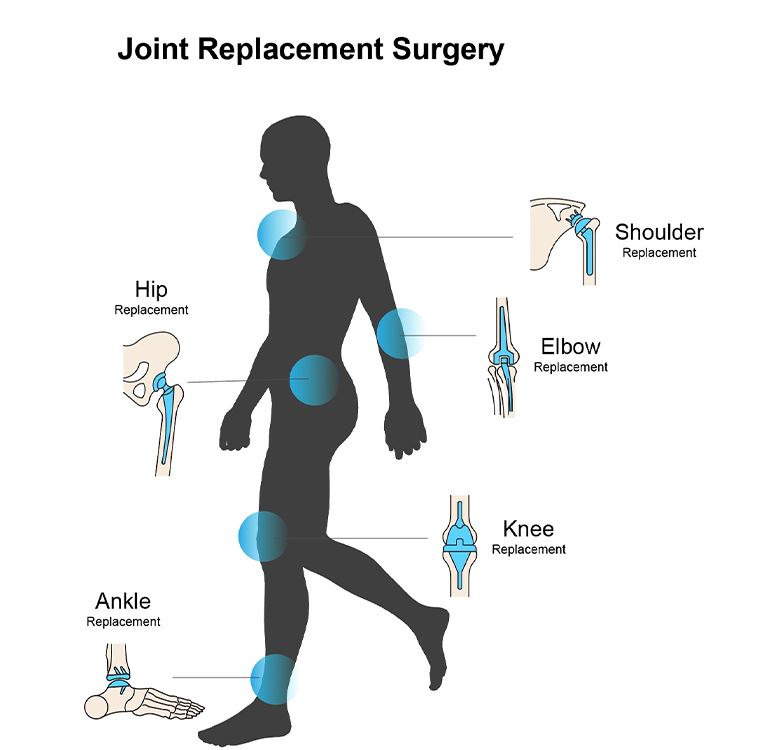 Joint Replacement Surgery By Body Part and Revisions
Knee Replacement
The knee is one of the largest and important joints in the body. Injury or disease, such as various forms of arthritis, can disrupt normal knee function, causing pain and/or mobility problems.
A total knee replacement surgery is the most common orthopaedic joint replacement surgery.
Total Knee Replacement (Total Knee Arthroplasty) involves surgery to replace the ends of both bones in a damaged joint to create new joint surfaces. The knee involves the lower end of the thigh bone, the femur, and the upper end of the shin bone, called the tibia. The kneecap, the patella, sits in front. The ends of these three bones meet and are protected by articular cartilage, which helps the bones move easily. The menisci are located between the femur and tibia, cushioning the joint and acting as a shock absorber. Ligaments hold the femur and tibia together, providing strength and stability to your knee. The remaining surfaces of the knee are lined with a synovial membrane, which releases a lubricant that prevents friction in the knee.
Partial knee replacement surgery can also be performed in certain patients in which only "one part" of the knee is worn or damaged.
Hip Replacement
The hip enables us to bend and straighten our body and move our lower limbs. Total Hip Replacement (Total Hip Arthroplasty) is a surgery in which the OSS doctor replaces the ends of both bones in a damaged joint to create new joint surfaces. When the hip is replaced, the original ball and socket joint is replaced with an artificial one consisting generally of a metal ball attached to a stem that fits inside the hollow canal of the femur or thigh bone. The ball is designed to fit with an artificial socket that is fixed to the cup portion of the pelvis or acetabulum. For the femur, both cement fixation and bone ingrowth methods are equally successful. A bone ingrowth implant is generally used, although cement fixation for the femur may be used in older patients whose bone may not be as substantial as when they were young. Watch this lecture given by Dr. Shahan Yacoubian who gives a thorough explanation of hip replacement surgery and recovery.
Ankle Replacement
Total Ankle Replacement Surgery (Ankle Arthroplasty) is a surgical procedure for a patient who has severe arthritis in the ankle. This procedure is typically more preferred compared to arthrodesis (fusion of the ankle joint) in order to preserve range of motion or function. The talocrural joint of the ankle is replaced using prosthetic components typically consisting of polyethylene (plastic) and metal. The talocrural joint consists of the 3 bones: the fibula, tibia, and talus. The primary function of the talocrural joint is for movement in the sagittal plane: dorsiflexion and plantarflexion.
Shoulder Replacement
The shoulder is the most mobile joint in the human body. In turn, it can also be one of the most unstable joints in the body. The shoulder allows us to reach, throw, and support our own body weight as we move about our daily lives.
If you are experiencing severe shoulder pain, weakness, or loss of motion, then you should consult one of our OSS doctors.
A Total Shoulder Replacement (Total Shoulder Arthroplasty) is when the "ball and socket" are replaced with artificial parts that allow for return of smoother motion with less pain. There are two types of shoulder replacements which depends on your shoulder condition. Please ask your OSS doctor for the details.
If you have a worn out or damaged rotator cuff, then you should consult one of our experienced doctors who may recommend a reverse Total Shoulder Replacement (rTSA).
Revision Joint Replacement Surgery
A previously replaced joint can be the cause of discomfort and pain. In some cases, the implanted prosthetic joint can become loose or can wear out over time. Revision Joint Replacement is when the doctor removes the existing implant and replaces it with a new one. Revision surgery can be more complex because the bone and soft tissues around the existing joint are more fragile. As such, it is very important that you choose an orthopaedic surgeon who is specifically trained in revision surgeries.

"Dr. Jeter is by far one of the greatest doctors I have ever worked with. She is a great listener, trusts her patients, and is positive and proactive. I am grateful she is my pain management doctor!! "

- Marnee T.

"Dr. Korchek was outstanding during both of my hip replacements. (It's due to him that I'm out standing, myself!) His explanations during every step of the process are clear, creating an atmosphere of complete confidence and trust. He was attentive ... "

- Anonymous

"Did my PT here after a major back surgery. Love OSS! Everything runs well, people are friendly. I came out strong as hell and confident in my new abilities. "

- Brenna R.

"They evaluated me carefully, always listen to my feedback, and adjusted workouts to see my progression, and in the end, I was able to be discharged from treatment and return to my normal activities earlier than planned. I definitely built more ... "

- Brain M.

"Everyone here was great Came in after surgery on my dominant wrist for a fracture and after 6 weeks I am almost back to normal functionality. Jamie was my therapist and she is great. Would recommend going here. "

- Cameron H.

"Hallie, David, Hanook. Ashlee and Jessie worked with me and they were all very professional and conscientious. (ney listened to all my wrist. complaints and they would make sure my wrist would feel better, When I first came to therapy I was doubtful ... "

- Rosa D.