When you have had a sudden bone or muscle injury or pain that has developed over time, you should make an appointment at OSS. Our doctors have access to a variety of machines to take images to see your bones, joints, and soft tissues. These images are important so your provider can give you the right diagnosis and treatment.
OSS in Burbank now has these imaging machines, making it EVEN better for you to get in-house services from a trusted team. We offer X-Ray, ultrasound, MRI, CT scans, and bone density scans.
Why OSS for Imaging?
Convenient. You go to one location for musculoskeletal medical care + get the needed images. Plus, our office will already be familiar to you.

More streamlined. Since OSS now offers more imaging services, OSS can get the images into your medical record faster and we'll be the ones to coordinate the imaging appointment with your insurance, if applicable.

Experts. Between our orthopaedic surgeons, pain management specialist and our trusted board-certified musculoskeletal radiology partners, we will be able to give you expert interpretations of all images taken at OSS Imaging.
How Imaging Works?
You'll first make an office appointment to see a member of our orthopaedic or pain management team.

You'll want to prep for the medical appointment.

Wear clothes best suited for all musculoskeletal medical appointments. Specifically, it's a great idea for you to come dressed in a manner that makes it easier for you to show the provider what and where it hurts.

Loose fitting clothes. Loose fitting clothes allows you to roll up the pant legs or sleeves so the provider can get a better physical view of the area that is causing you pain.
Clothes with the least amount of metal. Try to wear sports bras vs. bras with metal claps. Sweatpants vs. jeans (which has a metal zipper or buttons around the waist). Metal will appear in the X-Ray and CT Scans and may block part of the image your provider wants to view. Best to wear clothes with drawstring or elastic waistbands.

During your appointment, you'll hear from the provider what type of imaging is needed. If the provider determines a different type of image is needed, then the provider will write up an order for the more advanced imaging service.

If you are directed for more imaging, then you must read the specific instructions and complete the safety form / consent for MRI, CT Scan, and Bone Density Scan.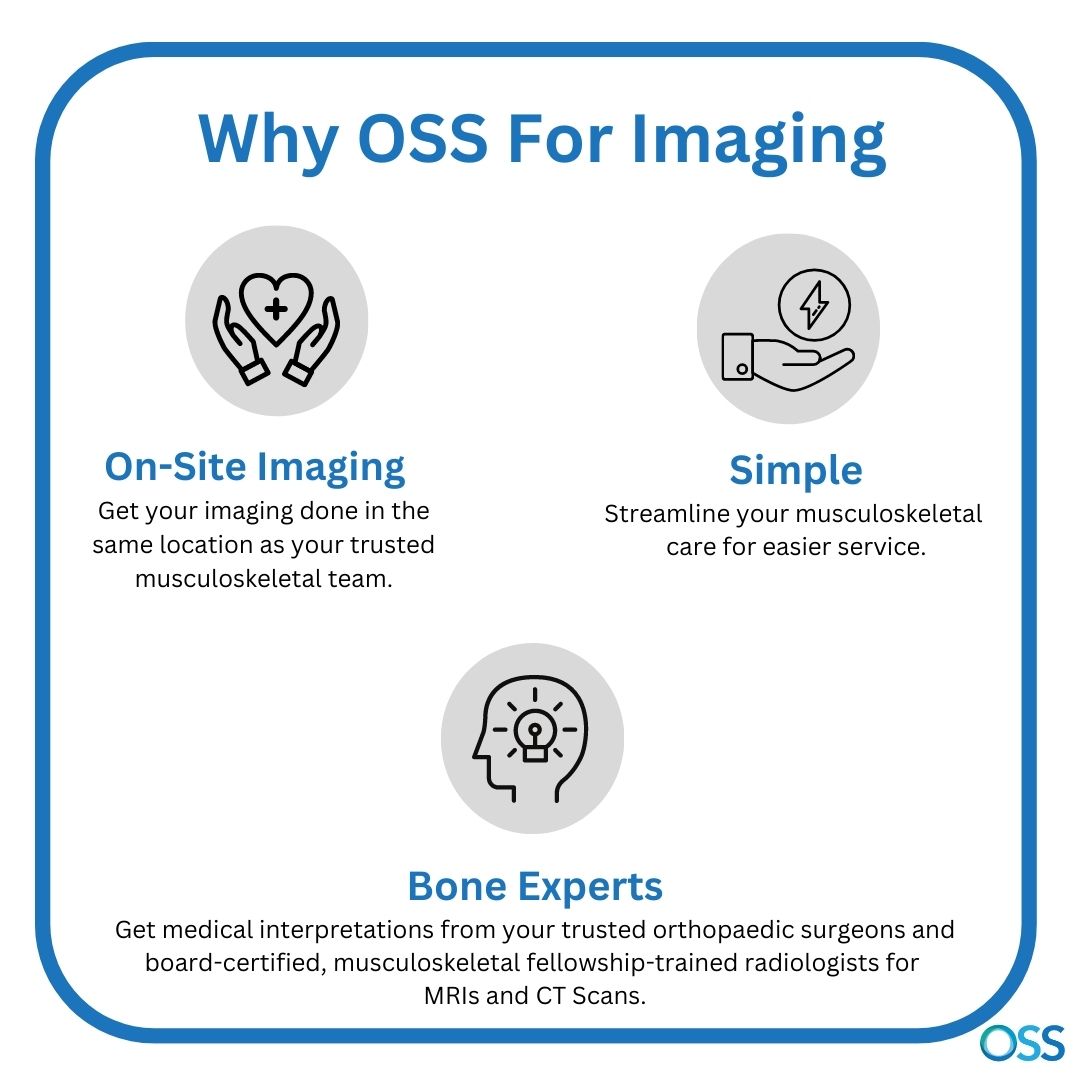 "They focus on getting patients thru and on time; learn their names and you will learn how special they all are."

- TRM

"Thank you for being the dedicated, thoughtful, and compassionate doctor that you are!"

- Kharmen R.

"A month after the surgery she is walking like she hasn't done in years and incredibly."

- Lorena F.

"Dr. Korchek was outstanding during both of my hip replacements."

- Anonymous

"I have been to this center a few times and have seen different Doctors for different Reasons. All the doctors are in point. You are not just a number here!! Doctors have caring personalities and out of this world knowledge."

- Sako M.