Got a billing statement from OSS? You pick the way to pay.
Option 1. Pay on the OSS patient portal.
You can see the outstanding balance on the patient portal and pay that amount. You can also view your bills.
Option 2. You get OSS bill in the mail and then you pay on the OSS Billing Site.
You look up your outstanding balance and then follow the directions on the paper bill.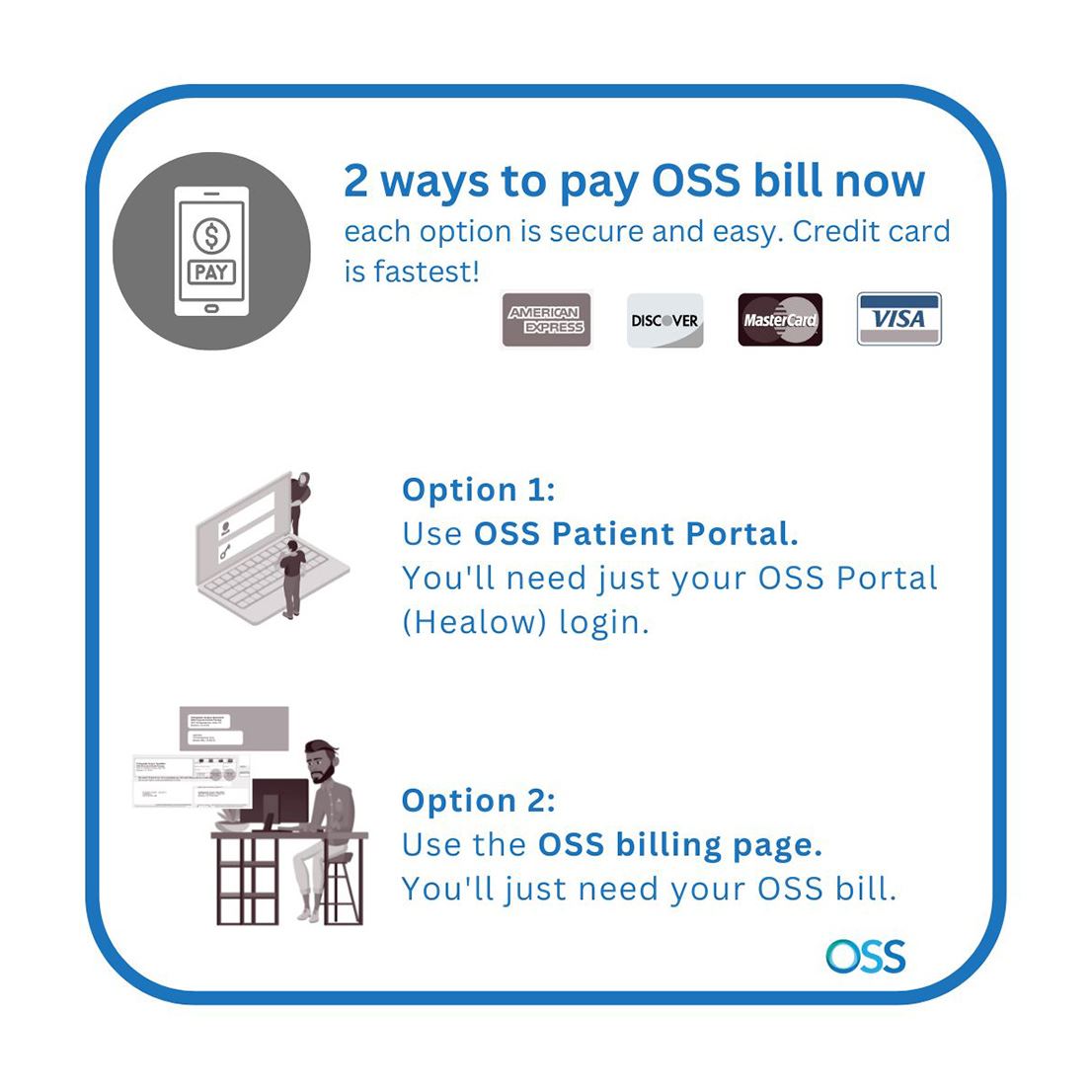 "I heartily recommend OSS Elite for anyone with carpal tunnel syndrome or any other hand problem (mine was arthritis in my wrist). The outstanding therapists there are so precise and knowledgeable, fully explain what each exercise does, give excellent ... "

- Peter L.

"This place was referred to me by my doctor after I tore my ACL and I'm very happy with everything. My doctor suggested I try PT before going with surgery. I am 6 weeks in and already walking with no issues, doing lunges, squats and other resistance t ... "

- A R.

"Did my PT here after a major back surgery. Love OSS! Everything runs well, people are friendly. I came out strong as hell and confident in my new abilities. "

- Brenna R.

"(Dr. Korchek) was straight to the point in everything. You can tell he was experienced. He said…you have a torn labrum in the right shoulder. The surgery went well. The pain wasn't bad.. the team was friendly and fun. I was in and out in no time. "

- Jason B.

"Dr. Raven treated me for De Quervian's Tenosynovitis. He performed a tendon release surgery after cortisone shots were not effective. Dr. Raven is a kind, compassionate and to the point doctor! "

- Beth S.

"Let me just say how thankful I am that I found Dr. Raven and his staff! I am a personal trainer who tore my distal bicep tendon and from the moment I met with Dr. Raven I knew he would be the one performing the surgery. The surgery went extremely ... "

- MJ K.