Got a billing statement from OSS? You pick the way to pay.
Option 1. Pay on the OSS patient portal.
You can see the outstanding balance on the patient portal and pay that amount. You can also view your bills.
Option 2. You get OSS bill in the mail and then you pay on the OSS Billing Site.
You look up your outstanding balance and then follow the directions on the paper bill.
Frequently Asked Questions
Who should I contact if I have a question about my bill?
Please contact the OSS Billing Team, specifically the Patient Accounts Coordinator at (818) 485-4113.
What should I do if I am having difficulty paying online or on time?
You should call the OSS Billing Team, specifically the Patient Accounts Coordinator at (818) 485-4113.
Who do I call if I need to pay my deposit for an upcoming surgery or procedure?
You should call the doctor's surgery coordinator to pay the deposit by credit card. Call OSS and then use you can use the coordinator's extension for faster service.
I need a copy of all the billing records for me or for a patient at OSS. Who can help with that?
You should contact Healthmark and you must make the request online. Click here. The Billing Department can only give you a copy of your most recent bill.
I don't need help with a bill necessarily, but need help with my authorization so I can get a specific health service at OSS. Who at OSS should I ask for?
If you are seeking status on an HMO authorization for an orthopaedic, pain management or imaging appointment + you are a returning patient, then you can ask for Alma. The process to obtain authorization typically takes 2 weeks because OSS needs your HMO medical group to authorization the requested service.
If you are new to OSS, then OSS WILL NOT be able to get you authorization. You must contact your referring doctor.
If you are seeking status on PPO insurance authorization for an MRI, CT Scan or Bone Density Scan, ask for Olivia. This typically takes 1 week.
If you are seeking insurance authorization for an upcoming surgery or procedure, contact the doctor's surgery or procedure coordinator.
If you are asking for insurance verification for therapy services, ask for Susan.
If you are asking for insurance authorization for therapy services, ask for Blanca.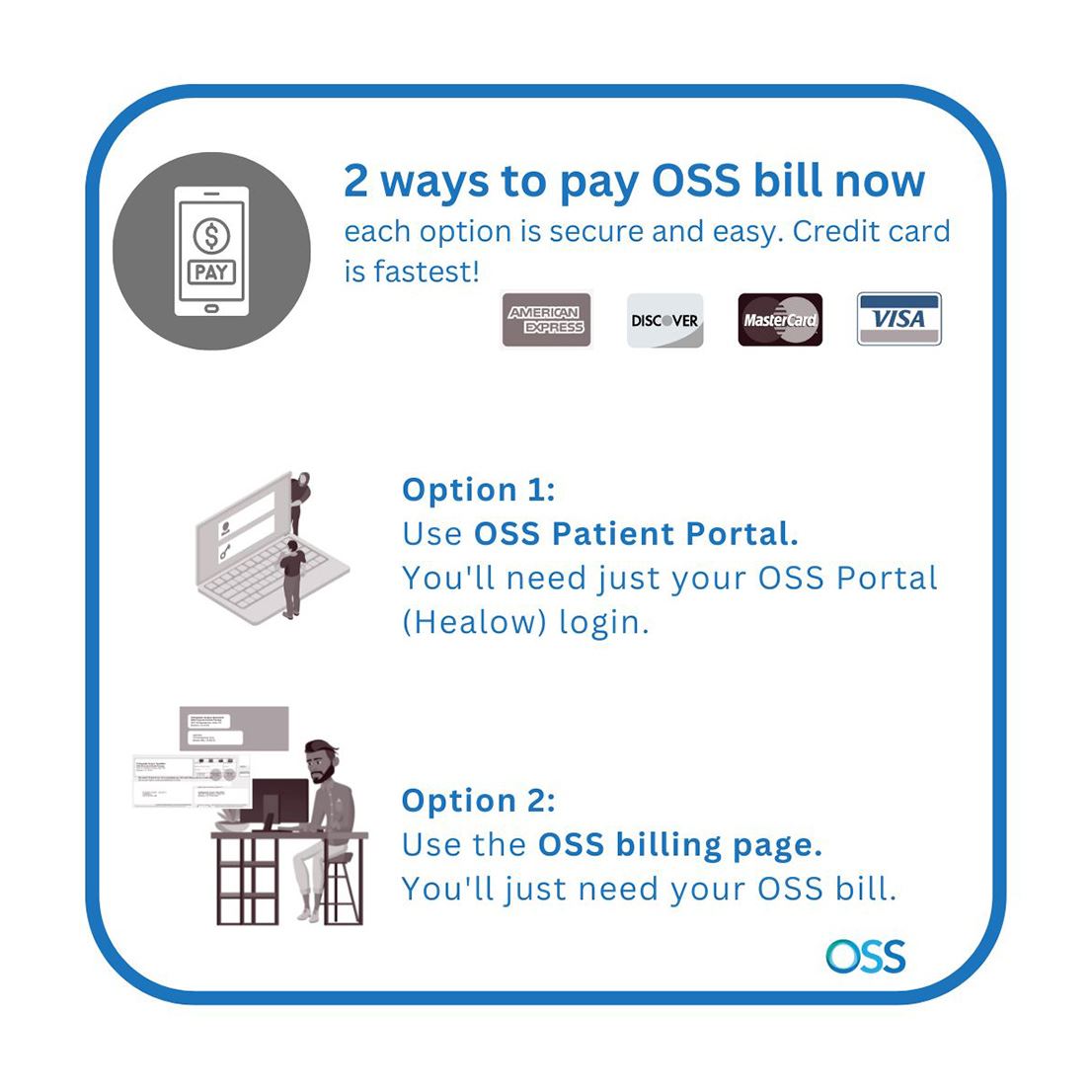 "Excellent experience with the clinic. "

- Paymon B.

"First time at this office and staff was very friendly and welcoming. I came to this location because my doctor joined the OSS team, really satisfied with her work and care for my needs. Her name is Dr. Chrystina Jeter and she is very knowledgeable ... "

- Jessica G.

"I was suffering from an excruciating lower back pain that prevented me from doing any movement, except for standing and walking. After getting an MRI I was told by my Orthopedic Surgeon I had a 7mm herniated disc on my L5, Physical Therapy would not ... "

- Anashe M.

"Everyone here was great Came in after surgery on my dominant wrist for a fracture and after 6 weeks I am almost back to normal functionality. Jamie was my therapist and she is great. Would recommend going here. "

- Cameron H.

"Dr. Falkenstein saved me! I honestly don't even know how to describe the happiness and relief I am feeling right now after suffering from lower back pain for pretty much half of my life (ps I am 30). Thank you Dr. Falkenstein for giving me my quality ... "

- Linda C.

"Dr. Falkenstein has performed 2 lower back microdiscectomies in the past with excellent results. I've seen other doctors since the surgeries and they have all commented on the excellent work performed by Dr. Falkenstein. I am going back for fusion ... "

- Russel L.