Magnetic Resonance Imaging (MRI)
An MRI stands for Magnetic Resonance Imaging. It is a very large medical imaging machine that produces detailed images of the body. The images are created by using very strong magnets. It gives the best view of your body's structure. It's noninvasive and has no radiation.
The MRI will show:
Soft tissues. It can show the the brain, spinal cord, nerves, muscles, ligaments, tendons, and cartridge.
Bones
Blood vessels
It will help give insight to these conditions: congenital abnormalities, degenerative conditions, deterioration from arthritis, herniated discs, injuries, and structural abnormalities.
If your provider ordered this advanced imaging, then please:
read the instructions, fill out the safety form and sign the consent.
MRI: Patient Instructions + Safety & Consent form (required)
MRI: Additional Safety & Consent form
MRI: Visitor Safety & Consent form.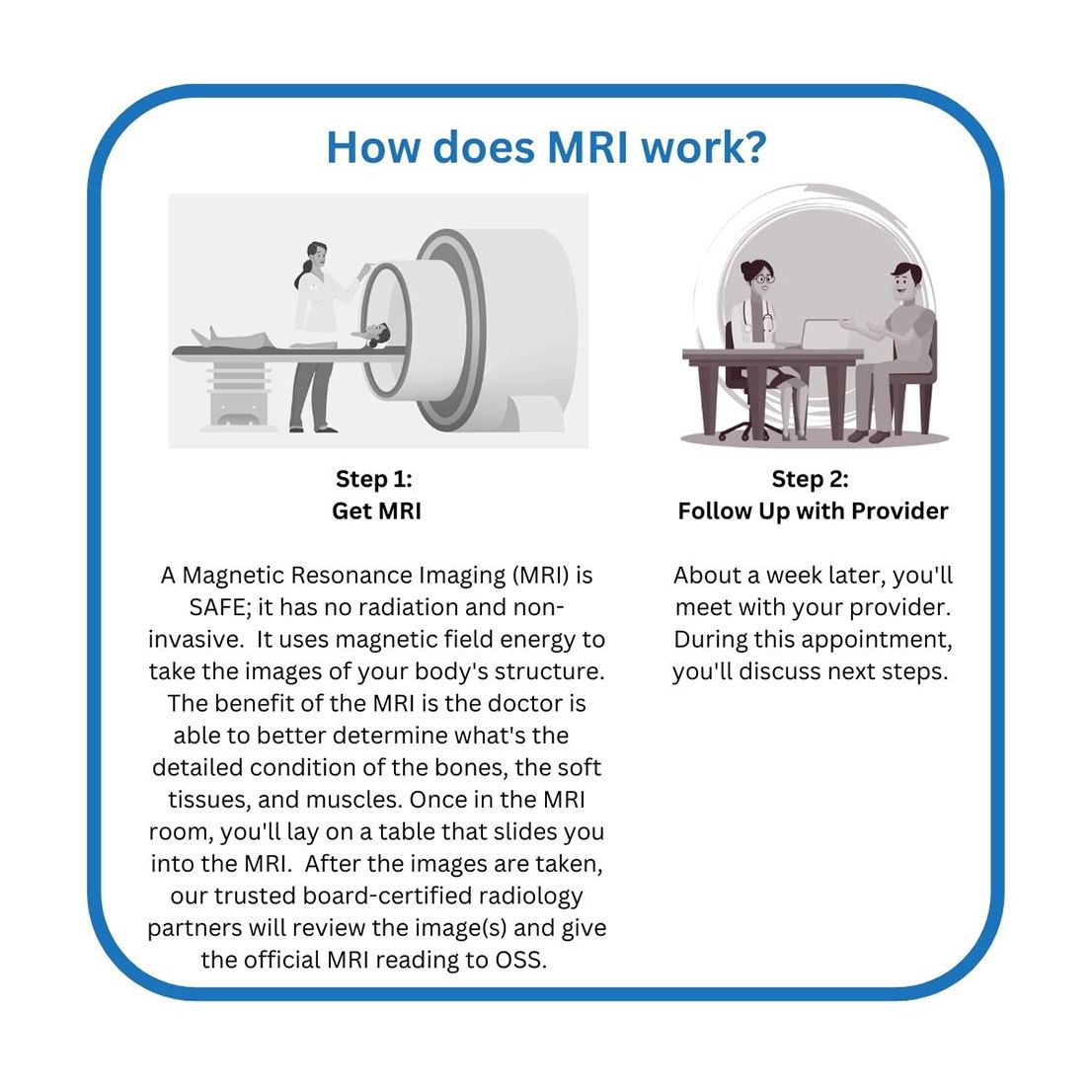 "I can't recommend anyone more highly than OT Loan Hoang and the team at OSS including Kelly. Cynthia, Vanessa, Jona, Erica, and many others who I'm forgetting to mention but who made a very positive impact on my recovery."

- Eric R.

"This is my second time here. The first time was for me with Dr Mikael. The second time was for my daughter. The wait time was spectacular today. Fast! His nurse / RN was on it! She loved her pink cast. Highly recommend this office."

- Veronica V.

"Two years since I had both knees replaced and all is good! Dr. Shahan Yacoubian does the knee replacements, and he knows what he is doing. His staff is great too and their physical therapy center next door is top notch!"

- Marc S.

"Dr. Korchek was outstanding during both of my hip replacements."

- Anonymous

"First time at this office and the staff was very friendly and welcoming. I came to this location because my doctor joined the OSS team. I'm very excited and looking forward to continuing my relationship with Dr. Jeter and OSS! Thank you."

- Jessica G.

"Dr. Raven treated me for De Quervian's Tenosynovitis. He performed a tendon release surgery after cortisone shots were not effective. Dr. Raven is a kind, compassionate and to the point doctor!"

- Beth S.