Burbank Orthopedic Surgeons and Musculoskeletal Specialists
The story of OSS (formerly known as Orthopedic Surgery Specialists) begins more than 70 years ago! It is a story of an orthopaedic group that is based in the art of giving excellent orthopaedic care and networking with family, friends, and colleagues. The story revolves around excellence, compassion, and striving to give the best outcome for each patient. You'll see this new generation of doctors come from different ethnic and racial backgrounds and speak different languages. Some of our providers speak Spanish, Armenian, Russian and Hebrew.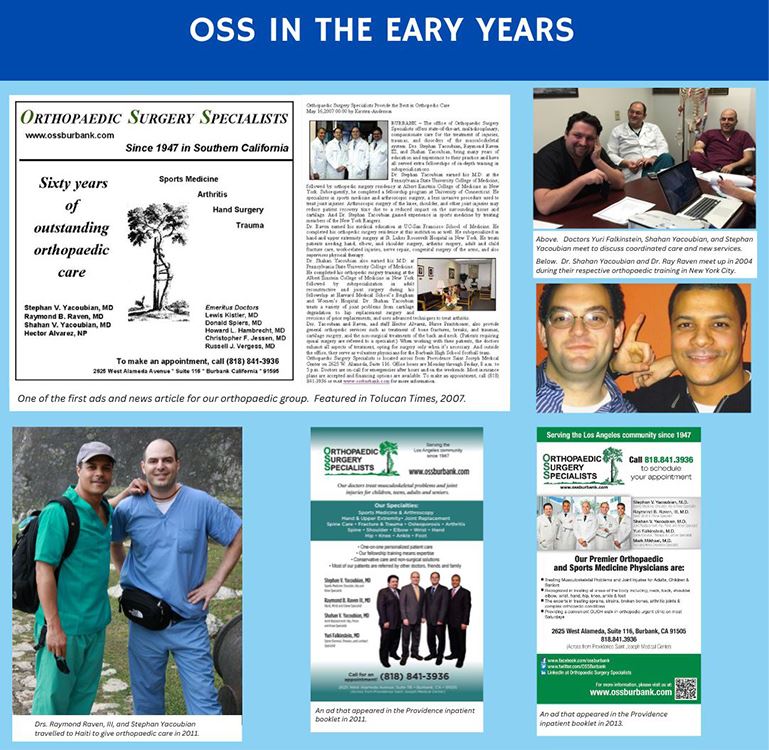 An orthopaedic practice in North Hollywood, California was founded in 1947 by two very well-trained orthopaedical surgeons, Dr. Donald Spiers and Dr. Lewis Kistler. To keep up with the influx of people moving to Los Angeles and the dynamic advancements in orthopaedic procedures, these doctors expanded their network, inviting Dr. Howard Hambrecht, Dr. Christopher Jessen, and Dr. Russell Vergess to join.
50 Years Later
In the early 2000s, all but one of these doctors retired, leaving orthopaedic veteran, Dr. Vergess, to solely help the thousands of patients who relied on the OSS doctors for excellent bone health and medicine. Dr. Vergess turned to his physician colleague network to find another orthopaedic surgeon. In 2002, Dr. Stephan Yacoubian, fellowship trained in orthopaedic sports medicine, entered the circle. Again, relying on the benefits of strong networks, Dr. Stephan Yacoubian recruited one of his best friends from UC Irvine, Dr. Ray B. Raven III, to provide specialized hand and upper extremity orthopaedic care, implement electronic medical records and help grow the practice. Next, Dr. Shahan Yacoubian, brother to Dr. Stephan Yacoubian, joined the partnership to provide specialized joint replacement care.
Like the original founders, these doctors recruited new doctors so patients could have access to more specialized care. Over the next few years, Dr. Yuri Falkinstein, who focuses on orthopaedic spine care, and Dr. Mark Mikhael, who focuses on orthopaedic ankle and foot care – joined the leadership team.

OSS is now a diverse group of health care providers focused on musculoskeletal care. OSS is committed to giving you an excellent musculoskeletal health outcome, and an excellent patient experience. We started a pain management service to and now have Dr. Chrystina Jeter. OSS is equally excited to welcome 3 new orthopaedic surgeons: Dr. Michael Moses, Dr. Richard Feldman, and Dr. Jeffrey Korchek.