Burbank Pain Management Doctors
Interventional Pain Management in Glendale
Dr. Chrystina Jeter, Stanford fellowship-trained in anesthesiology and pain medicine, is compassionate and ready to ease your physical pain.
Whether you describe your condition as sudden, acute pain or ongoing, chronic pain, we can help. We have a dedicated interventional pain management physician on staff, Dr. Chrystina Jeter, who has undergone fellowship training in anesthesiology and pain medicine from Stanford University.
Having pain in the body is disabling. Dr. Chrystina Jeter focuses on the management of all chronic painful conditions. Her goal is to treat the entire patient, addressing each problem that contributes to the patient's pain and inability to live his/her/their life to the fullest.
She is an advocate of patient-centered evidence-based medicine and advocates a multi-disciplinary approach to interventional pain management. These modalities may include analgesic therapy, minimally invasive interventions and procedures, physical therapy, complementary alternative medicine, pain psychology and wellness coaching.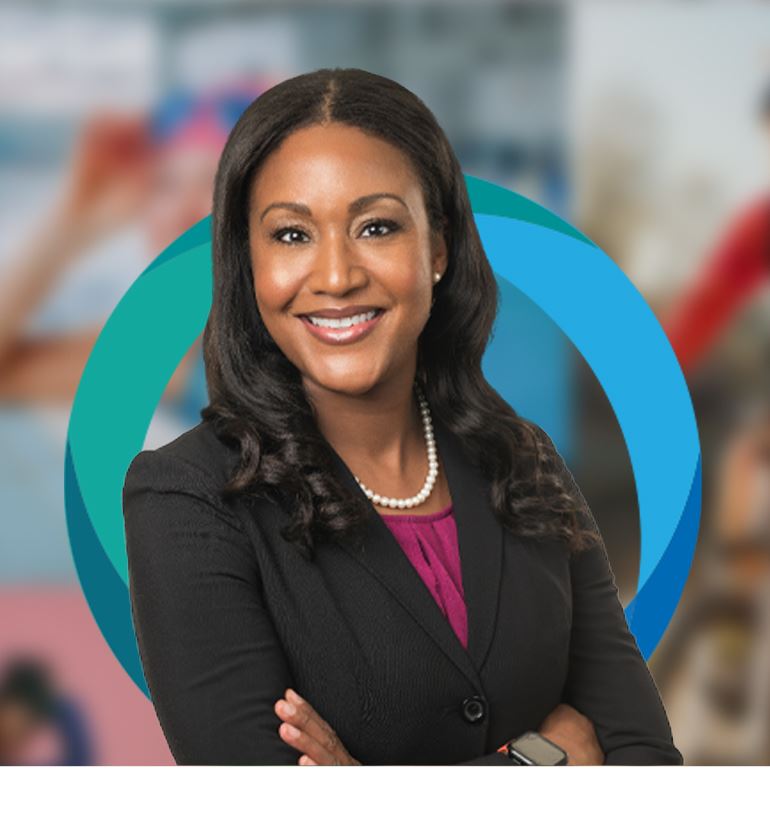 Non-Surgical Treatments
Your first consultation with Dr. Jeter is comprehensive. Because pain can be both physical and emotional, she will assess your current pain level, consider your medical history plus your social history, and understand the medications and treatments you have had previously. Her experience as a pain management specialist allows her to resourcefully come up with a sound and responsible treatment plan.
Dr. Jeter gives treatments in our office and in our procedure centers. Below are some of the procedures she routinely performs:
Epidural Steroid Injection
The epidural space is an area of the spine next to the nerves and discs. This is an injection of steroid (cortisone) into the epidural space in the spine to treat pain related to bulging or herniated discs.
Joint Injection
A joint is the location where bones connect, often allowing movement. Over time, the joint can develop arthritis and cause pain. Placing medication directly into the joint can help treat your pain, depending on the area of the body injected.
Bursa Injection
A bursa is a small fluid filled sac located around bones, muscles, and tendons. Bursas provide cushion and reduce friction between two surfaces that move in opposite directions. Sometimes bursas can become irritated and inflamed, causing pain. This is known as bursitis. Placing medication directly into the bursa can help treat your pain, depending on the area of the body injected.
Piriformis Muscle Injection
The piriformis muscle is located deep in the buttock. The sciatic nerve travels very closely to the piriformis muscle in the buttock. Irritation of the piriformis muscle can cause irritation of the sciatic nerve, leading to pain in the buttock and leg. This injection can help.
Trigger Point Injections
A trigger point is a focal area of spasm and inflammation in the muscle, which can often be felt as a knot. When the trigger point is pushed, it will frequently cause pain and irritation. Trigger points can develop in any skeletal muscle in the body. Our pain management specialist will advise if this injection type could help.
Peripheral Nerve Block
Peripheral nerves are located throughout the body. They connect the central nervous system (brain and spinal cord) to the rest of the body. Peripheral nerves can become irritated or inflamed, causing pain depending on its location. Our pain management specialist will advise if this injection type could help.
Medial Branch Block
The facet space is a joint space connecting two vertebra where you may have developed arthritis. Each of these spaces has its own nerve called a medial branch. This injection is meant to be a temporary diagnostic test to identify whether these are the nerves that are contributing to your pain. If this injection does take away your pain, it may be followed by a more permanent therapy, like a radiofrequency ablation.
Radiofrequency Ablation/Rhizotomy
This is the more permanent therapy after you achieve significant, temporary relief from the medial branch block procedure. This procedure is performed to ablate or kill the nerves contributing to your pain. The nerves do eventually grow back and your pain may return but this process occurs very slowly.
Peripheral Nerve Stimulation/Spinal Cord Stimulation
Peripheral nerve stimulation is a method of neuromodulation or changing the perception of your pain by stimulating specific nerves. This therapy is a pacemaker-like device that can treat your pain by eliminating it, or by replacing the pain with a warm, pleasant, tingling sensation overlying your painful area.
Botox Injection for Migraine
Chronic migraine is a specific type of headache which may respond to certain over the counter and/or prescription medications. If those medications are ineffective and the headaches are severe, you may be a candidate for Botox injections. These injections are completed during an office visit and may be helpful to control the frequency and intensity of migraine headaches.
Dr. Jeter has extensive experience with injectable therapies and implantable devices including Boston Scientific, Abbott, Nevro, Stimwave, Nalu, and SPRINT.
Common Problems
You or a friend should seek out help from our pain management specialist if you have one of these chronic problems:
Spine pain (neck, mid-back, low-back pain)

Joint Pain / arthritis

Abdominal / pelvic pain

Musculoskeletal injury / pain

Headaches / facial Pain

Pain after surgery

Nerve disorders (CRPS, herpetic neuralgia, peripheral neuropathy, nerve entrapment)

"I have been to this center a few times and have seen different Doctors for different Reasons. All the doctors are in point. You are not just a number here!! Doctors have caring personalities and out of this world knowledge."

- Sako M.

"Dr. Jeter is great! Compassionate and quite capable--terrific combination. I highly recommend her for pain management."

- Denise V.

"Dr. Jeter is by far one of the greatest doctors I have ever worked with. She is a great listener, trusts her patients, and is positive and proactive. I am grateful she is my pain management doctor!!"

- Marnee T.

"OSS is Amazing including all the staff. They are Super Friendly and Helpful! Dr. Jeter's is Awesome and truly listens and understand how much pain you might be in.Thank you everyone and Thank you Dr. Jeter's!"

- Naimah H.

"First time at this office and the staff was very friendly and welcoming. I came to this location because my doctor joined the OSS team. I'm very excited and looking forward to continuing my relationship with Dr. Jeter and OSS! Thank you."

- Jessica G.
Trusted Medical Sources
To find out more about pain management, please visit these professional organizations:
Description of Interventional Pain Management
Everyone feels pain from time to time. Often, pain starts from an acute injury, such as pulling a muscle or breaking a bone. The pain you experience tells you that something is wrong. The good news is that when the acute injury heals, acute pain usually goes away.
However, chronic pain is different. Your body continues hurting months or even years after the injury. The sensation of pain results from a series of electrical signals that travel through your nervous system and reaches your brain. The brain processes the signals and sends out the message that you are hurt. With chronic pain, the nerve signals keep firing even after the acute cause of pain is resolved. Some common causes of chronic pain include old injuries or previous surgeries, back problems, headaches, arthritis, nerve damage, infection and fibromyalgia.
Chronic pain can lead to a vicious cycle leading to additional complications which can worsen. Some of these secondary complications include trouble sleeping, lack of energy, anxiety, stress, depression and immobility. All of these factors work to worsen experience of chronic pain. In addition, chronic pain can lead to problems at home and at work and leads to more stress. We will work together to break the cycle of chronic pain.