OUCH! Orthopaedic Urgent Care Health Clinic
Walk in or same day appointment for ortho help
OSS has set up an urgent orthopaedic walk-in service to help you with these musculoskeletal health problems:
Recent sports injuries
Sudden back pain
Broken bones (fractures)
Swollen joints
Rib injuries
Problems with casts or bandages post surgery. Includes getting bandage wet, foul smell, or bleeding
Refill medication for existing ortho injury treated at OUCH
What does this service include?
On-site care from our trusted and experienced Physician Assistants.
Service to treat your sudden orthopaedic injury or pain.
Specialized orthopaedic treatment to start your recovery.
An x-ray and a referral for more imaging services, if necessary.
Streamlined consultation with an orthopaedic surgeon if your injury requires more intervention.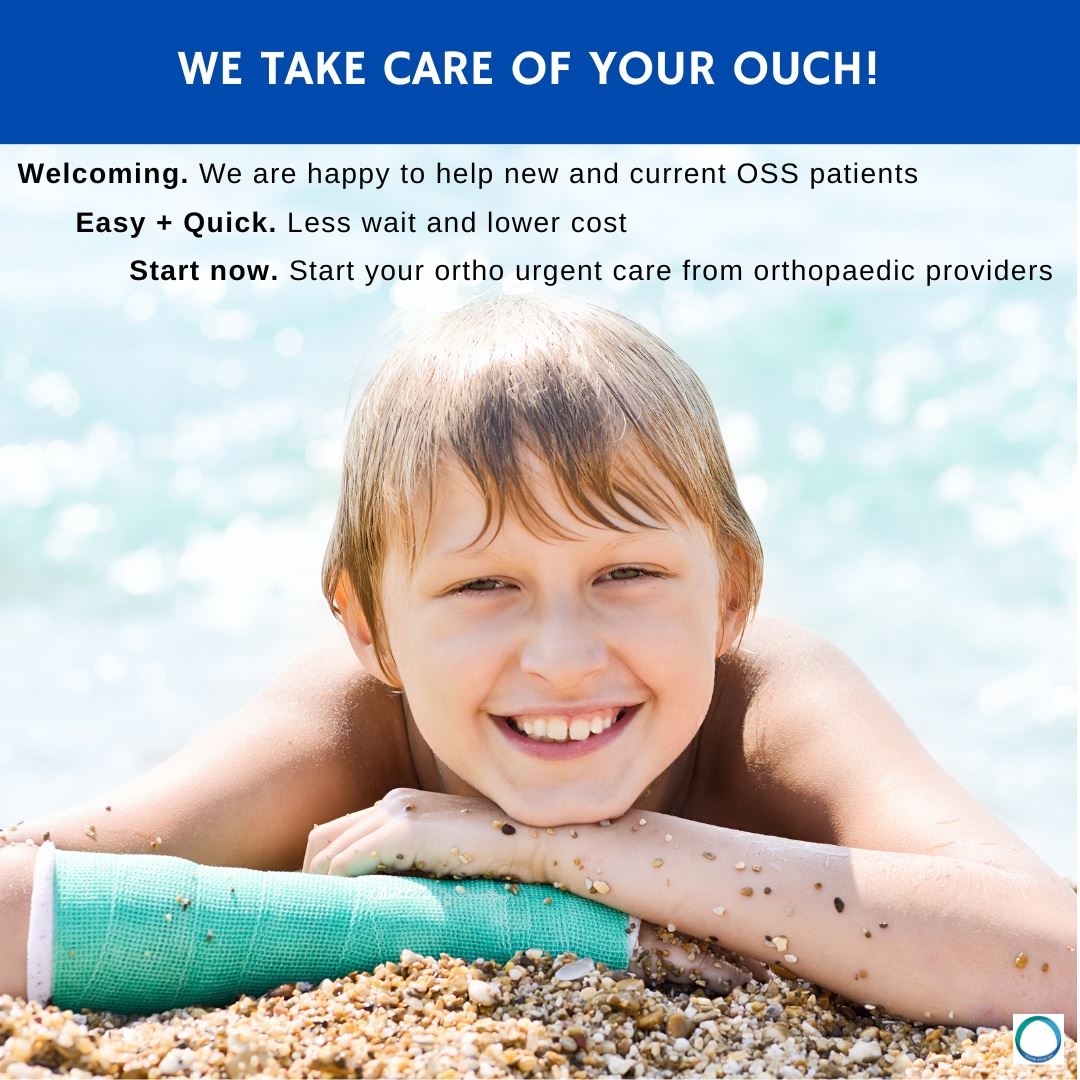 "Got an appointment the very next day after breaking my leg. Thank the doctor at Burbank Urgent Care for calling over the referral. Everyone was very professional and compassionate. The PA and his assistant, Brian, were great at casting my leg with safety a"

- Sai-Ling M.

"It was efficient, courteous and helpful. I called and they got me in within an hour of my phone call. I didn't wait long, they gave me x-rays and I saw a doctor within 30 min total."

- A.R.

"Excellent experience with the clinic."

- Paymon B.
What is the cost for OUCH!?
You have 2 ways to pay for OUCH! when you arrive. You can either use your PPO insurance or use no insurance.
Option 1: You can use your PPO health insurance plan + give a deposit of $120. See the list of insurances we accept. Since every health insurance varies, a deposit of $120 may be required today. After this visit, our office will verify your health insurance, check your deductible, and submit the claim (bill) to your insurance. Once our office receives an Explanation of Benefits (EOB) and payment from your health insurance, we will either (1) Refund you the remaining deposit within 30 days of the EOB or (2) Bill you for any services that were above the $120 we initially collected.
Option 2: You can use no insurance + pay a set fee of $300. The price of your self-pay urgent care visit is $300, which also includes 1 X-ray and a cast or splint if needed. Major procedures such as bone setting or surgery are an additional cost and not included in this $300 fee.
*OUCH is a service of OSS and is not classified as an urgent care facility
Animal or insect bite
Non-life threatening medical issues and illnesses
Musculoskeletal injury or pain when ouch! and OSS are closed.