Health Insurance or Self-Pay
How to handle fees at OSS?
Option 1: Use your health insurance since OSS accepts many insurance plans.
OSS accepts many PPO insurances, EPO insurances, Medicare and HMO insurance plans (only Facey or Axminster).

Remember, it's your job to understand your health insurance so you know what to expect. Regardless of what your insurance company tells OSS, you are still responsible to pay OSS for any services rendered.

If you have Medicare, an EPO, and /or a PPO, OSS may ask you to

handle

a deposit and/or copay before OSS can render services. This deposit can be up to $120.
If you are a part of an HMO insurance plan with Facey or Axminster, you'll need to have an authorization referral number from the medical group for your first appointment.
***
IMPORTANT! OSS is moving Out-of-Network with Optum. Effective August 1, 2023, OSS will be Out-of-Network with Optum (formerly Healthcare Partners Medical Group). This unfavorable decision follows extensive negotiations between OSS and Optum. OSS is committed to your care. You do NOT need to take any action if:
You already have an office appointment scheduled (booked) at OSS from now until July 31. This includes orthopaedics, pain management, physical therapy, hand therapy, or chiropractic.
Your surgery or procedure at OSS is already booked with a date no later than December 27, 2023. This means OSS communicated a date of surgery to you by June 30.
If you had surgery prior to this notice, or your surgery is already booked with OSS, our doctors and physician assistants will continue to give you the required post-op care for 90 days (3 months) from the date of your surgery.
OSS recommends you contact Optum or your Primary Care Physician (PCP) to find another in-network specialist who may accept any new appointments you need.
*****
Option 2: Be self-pay (not using insurance) either because OSS does not work with your insurance or because you do not have insurance.
Self-Pay Prices for Commonly Used In-Office Services
Orthopaedics
First Appointment for New Injury / Pain* $350
Follow Up for Same Injury $100
Pain Management
First Appointment for New Injury / Pain $350
Follow Up for Same Injury $100
Physical Therapy
First Appointment To Get Evaluated $150
Follow Up for Same Injury $100
Hand Therapy
First Appointment To Get Evaluated $150
Follow Up for Same Injury $100
Chiropractic - Coming Soon
First Appointment To Get Evaluated
Follow Up for Same Injury
MRI $400
CT Scan $400
DEXA Bone Density $60
* Includes evaluation, necessary X-Rays, steroid injections and some small braces.
Option 3: Use workers compensation because your injury took place at work and you have opened a workers compensation claim.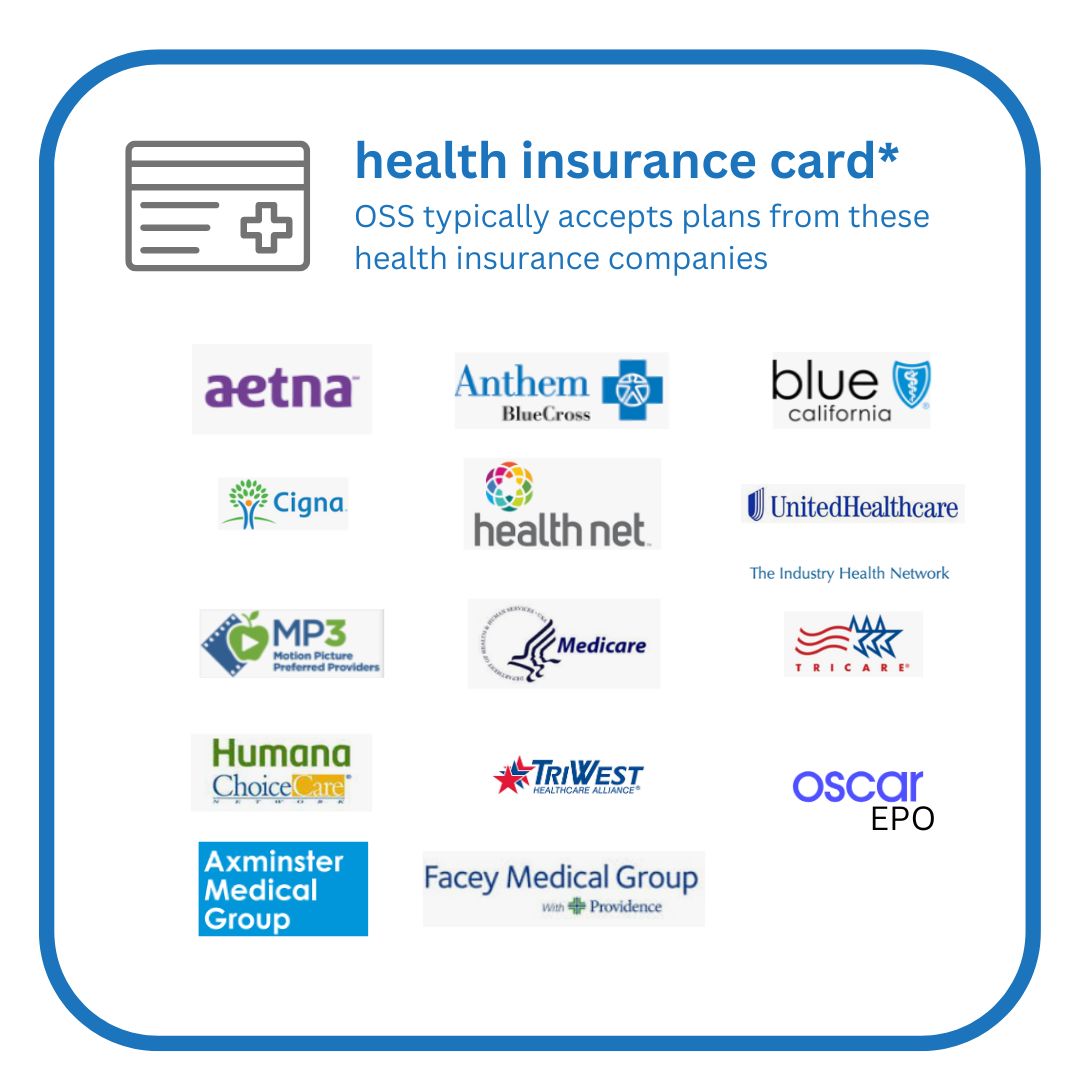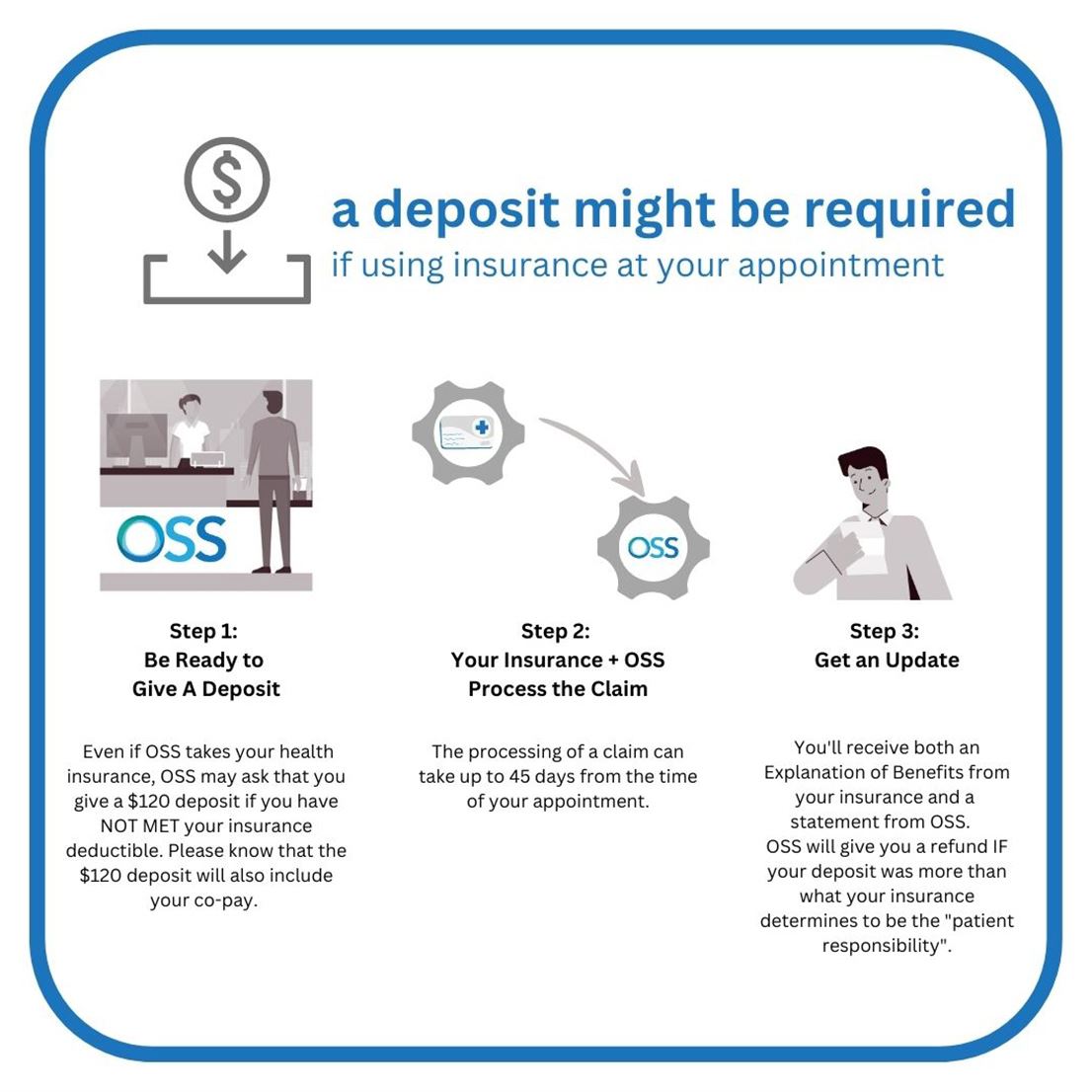 "Two years since I had both knees replaced and all is good! I believe I left a very positive review not long after, so this is basically a repeat of that. Dr Shahan Yacoubian does the knee replacements, and he knows what he is doing. His staff is ... "

- Marc S.

"I was suffering from an excruciating lower back pain that prevented me from doing any movement, except for standing and walking. After getting an MRI I was told by my Orthopedic Surgeon I had a 7mm herniated disc on my L5, Physical Therapy would not ... "

- Anashe M.

"First time at this office and staff was very friendly and welcoming. I came to this location because my doctor joined the OSS team, really satisfied with her work and care for my needs. Her name is Dr. Chrystina Jeter and she is very knowledgeable ... "

- Jessica G.

"Now, November 2016, Dr. Mark Mikhael operated on my right foot. He also was a top surgeon. He spent alof of time going over everything with me before surgery in the office. My foot is healing quickly! "

- Janet L.

"Excellent experience with the clinic. "

- Paymon B.

"I think Orthopedic Surgery Specialists group is the best group for orthopedic surgery. Over the years, before OSS, I had two knee surgeries, a shoulder surgery, and a foot surgery with different doctors and at different facilities. So I have had a ... "

- Janet L.