Refill Prescription Medication
OSS is committed to getting your prescription medication refilled.
If you need OSS to a refill a prescription, please follow one of the options below, keeping in mind our policy:
OSS orthopaedic doctors will only prescribe a narcotic medication if you have had an acute injury or after surgery (up to 4 weeks). If you ask your OSS orthopaedic doctor for more pain medication beyond 4 weeks, you will be referred to our OSS Pain Management Specialist or to your primary care doctor.

You must give OSS 2 business days (48 hours) before so OSS has enough time to process the request.

OSS works on refill requests between 8:30 am to 4:30 pm, Monday – Friday.

OSS does not work on refills after hours (e.g., during weekday evenings, weekend) or

holidays

.

OSS will send the prescription for medication electronically to your pharmacy. Be sure you tell us the correct pharmacy.
Your 2 Options to Request Refills
Best Option! Call the specific office for your provider during regular business hours and leave a voicemail in the refill voice mailbox. OSS checks the voicemail twice a day.
Call your pharmacy and then the pharmacy will contact OSS.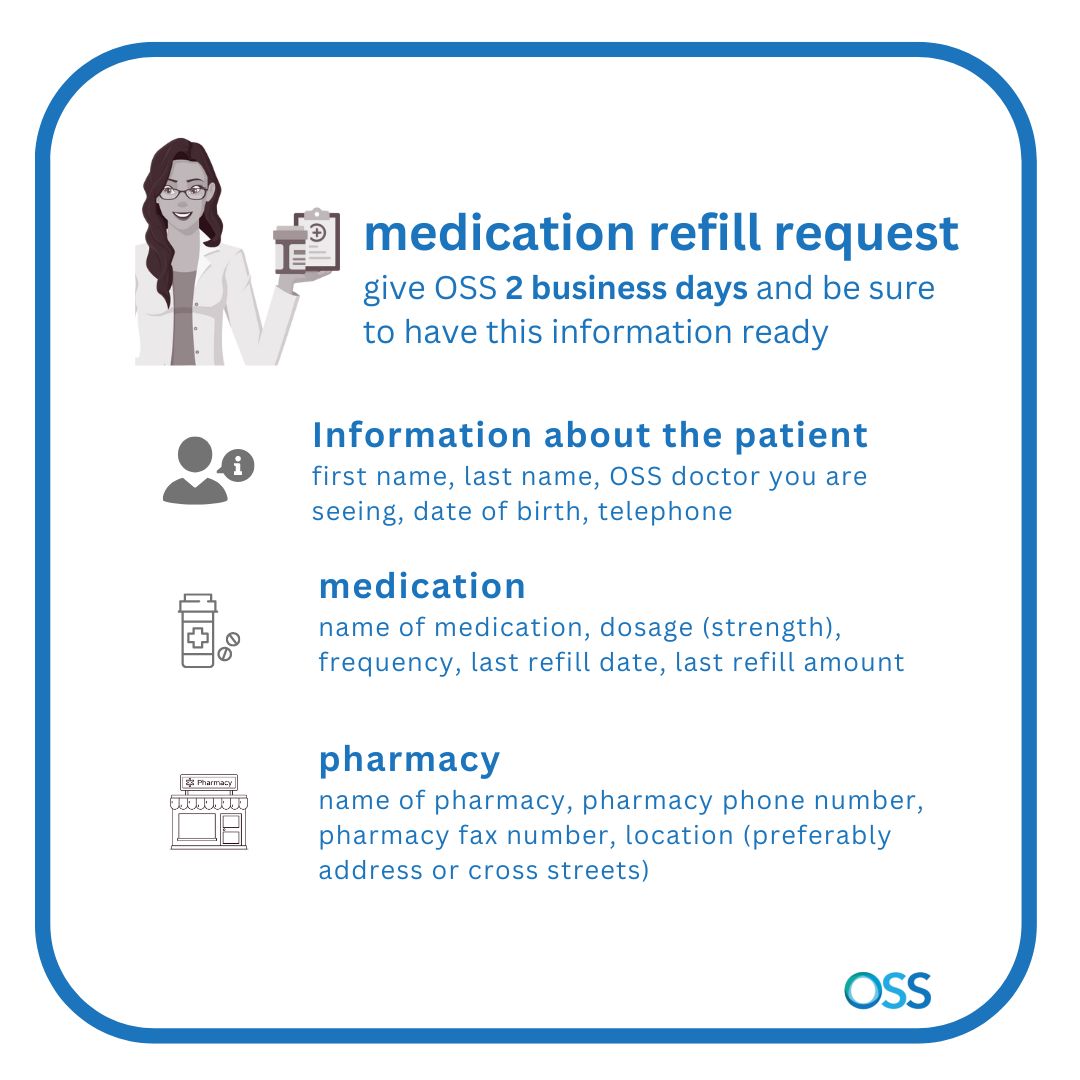 "This place was referred to me by my doctor after I tore my ACL and I'm very happy with everything. My doctor suggested I try PT before going with surgery. I am 6 weeks in and already walking with no issues, doing lunges, squats and other resistance t ... "

- A R.

"OSS is Amazing including all the staff. They are Super Friendly and Helpful! Dr. Jeter's is Awesome and truly listens and understand how much pain you might be in. She moves quickly to find where the source of your pain is coming from and inform you ... "

- Naimah H.

"I could not walk I had to hop, my hip was really bad and was in need of total hip replacement. I was sent to Shahan Yacoubian I have not felt so good in the last 5 years, Dr Yacoubian reassured me that / will be better, I have not be so happy in ... "

- Sheila C.

"This is my second time here. First time was for me with Dr Mikael. Second time was for my daughter - she went to see Dr Mikael too. She has a broken Fibula and Tibia. The wait time was spectacular today. Fast! His nurse / RN was on it!. As soon as he ... "

- Veronica V.

"Dr. Jeter is great! Compassionate and quite capable--terrific combination. I highly recommend her for pain management. "

- Denise V.

"Did my PT here after a major back surgery. Love OSS! Everything runs well, people are friendly. I came out strong as hell and confident in my new abilities. "

- Brenna R.