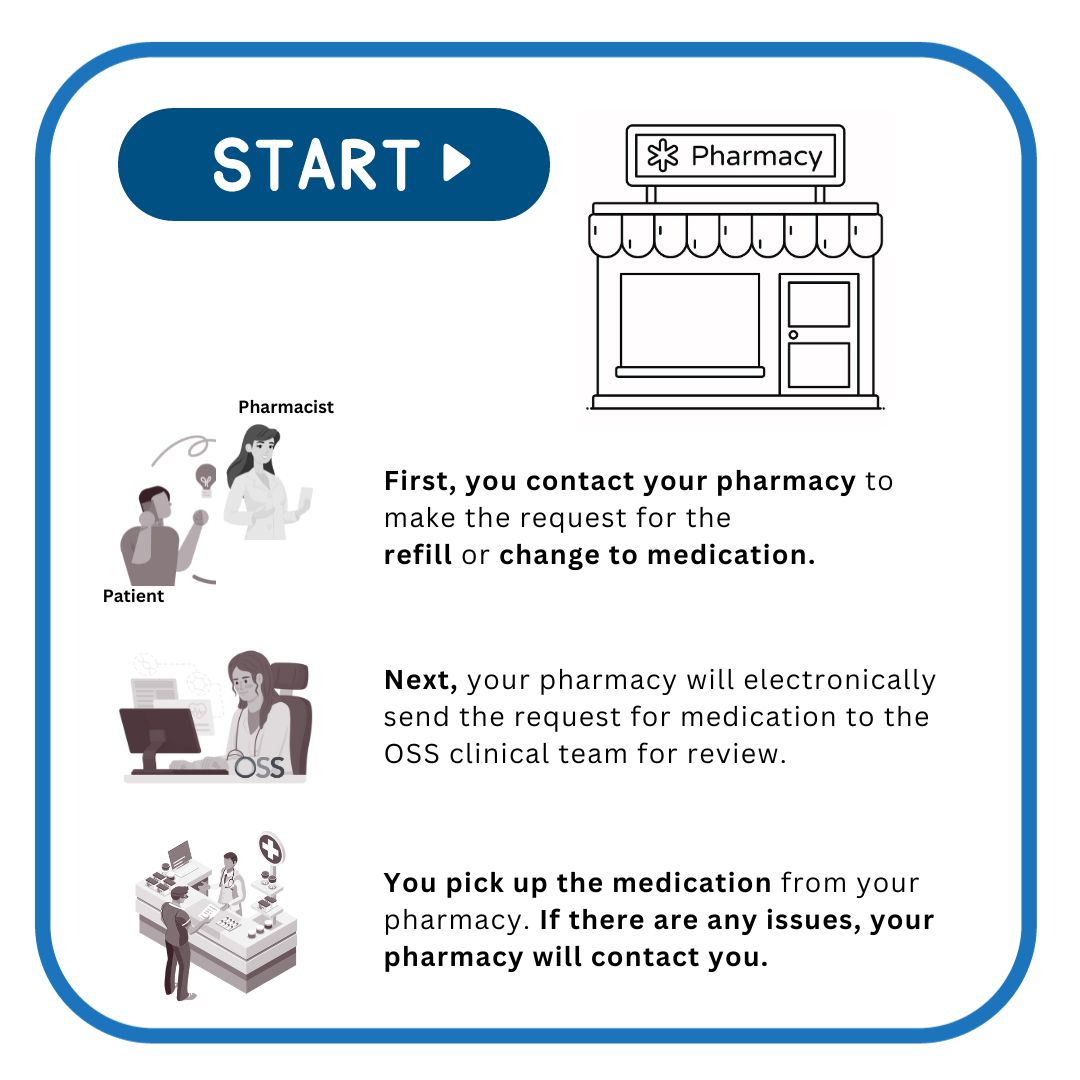 Refill for a medication at a pharmacy OSS has already used?
Contact that pharmacy to start the request.
It's easy and better for you to start with the pharmacy for these reasons. First, the pharmacy will check its inventory for the medication. Second, the pharmacy will tell you if the insurance will cover the medication. Rest assured, once the pharmacy electronically sends the request to OSS, OSS will review so you then get the help you need.
Refill at a different or new pharmacy?
Best is if you fill out this form. The OSS Medication Messaging team will then hand off the request to the OSS providers to review and then send to the pharmacy so you can then pick up the medication.
New or a change to a medication?
If you need a new or change to a medication because you are having a dental procedure (for those patients who had a joint replacement), or because the medication is is not helping or you have an allergy, then please request an appointment. Our team will be able to make a quick assessment about the next steps to take.
Important Considerations
Been more than 3 months since you have seen the OSS provider? If yes, you'll need to meet with the provider. Click now to request an appointment.
Give OSS 2 business days to review the medication refill. We try to do it faster but again, give us 2 days. Always try to make the request in advance before your medication runs out.

If OSS ends up sending in the request for the refill, OSS will only find out if medication is unavailable only after it is sent. That is why OSS always recommends the patient contact the pharmacy first so the pharmacy can be the one to request.

OSS does not have a preferred pharmacy or an affiliation.

"I was referred here by Dr. Raven for hand therapy due to a diagnosis of De Quervain's Tenosynovitis. I was lucky to have 5 sessions here all of which were the most informational and wonderful experiences. I had a different therapist each time, each ... "

- Nooshi B.

"I've seen Dr Stephan Yacoublan for several different injuries. He performed my surgery to fix a torn rotator cuff in the past and that was the quickest I've ever recovered from any surgery (and I've had many.). This time around I'm seeing him for my ... "

- Krissie B.

"(Dr. Korchek) was straight to the point in everything. You can tell he was experienced. He said…you have a torn labrum in the right shoulder. The surgery went well. The pain wasn't bad.. the team was friendly and fun. I was in and out in no time. "

- Jason B.

"Dr. Jeter is by far one of the greatest doctors I have ever worked with. She is a great listener, trusts her patients, and is positive and proactive. I am grateful she is my pain management doctor!! "

- Marnee T.

"It was efficient, courteous and helpful. I called and they got me in within an hour of my phone call. I didn't wait long, they gave me x-rays and I saw a doctor within 30 min total. "

- A.R.

"Dr Shahan Yacoublan is one of the best doctors I've ever dealt with, he performed a hip replacement on me and everything went extremely wall. I was walking with a walker the same day, with a cane in two weeks and by the fourth week I was on my feat ... "

- Edward C.