Computerized Tomography (CT) Scan
CT stands for Computerized Tomography (CT). It is a medical imaging technique that produces a more detailed image of the body (more than an X-Ray). In fact, a CT Scan gives a much better view of what the small bones look like after a break (fracture). Getting a CT Scan is relatively fast and easy.
If your provider ordered this advanced imaging, then please:
read the instructions, fill out the safety form and sign the consent.
Please arrive to your appointment 20 minutes before the appointment.
CT Scan: Patient Instructions + Safety & Consent form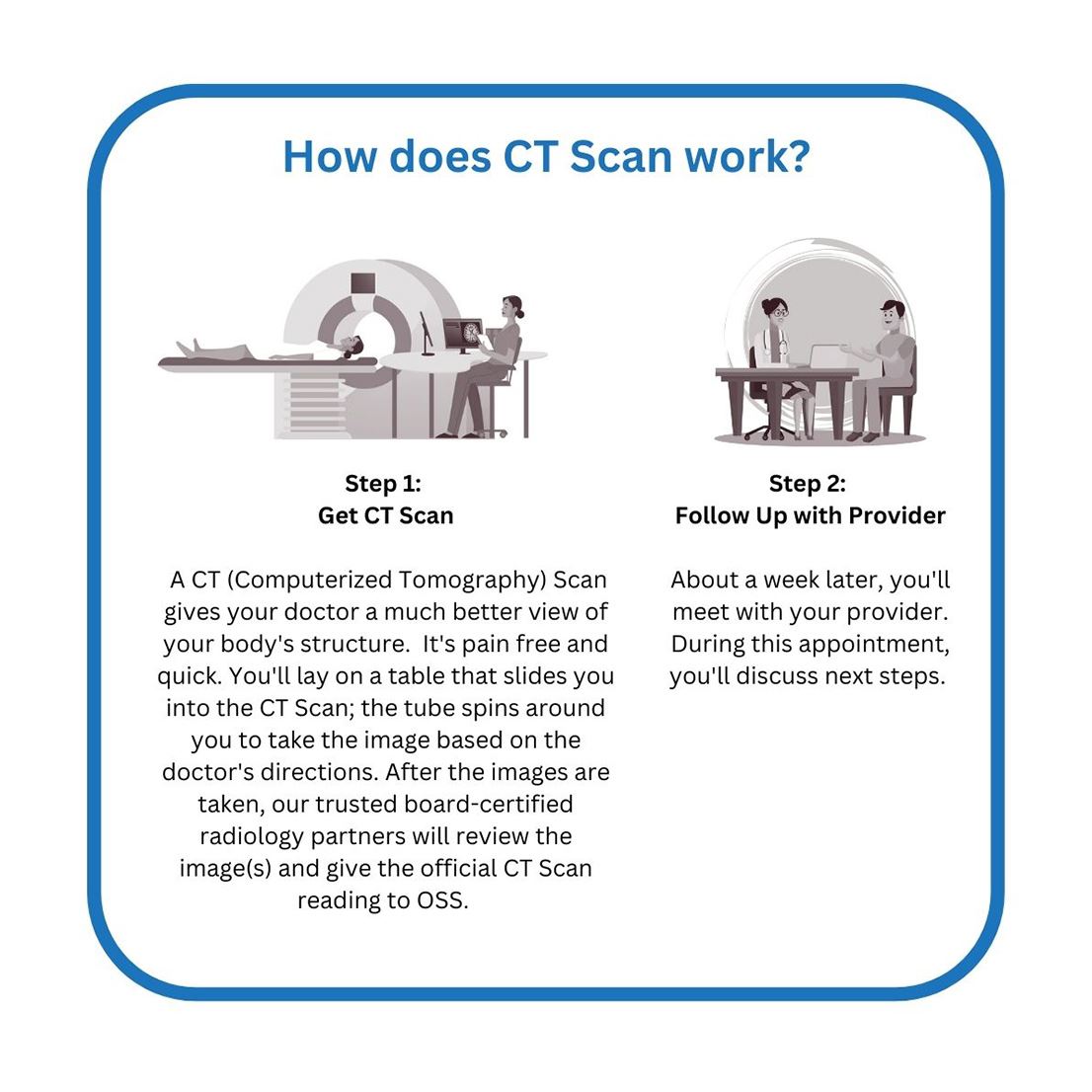 "Dr. Falkenstein saved me! I honestly don't even know how to describe the happiness and relief I am feeling right now after suffering from lower back pain for pretty much half of my life (ps I am 30). Thank you for giving me my quality of life back!"

- Linda C.

"Dr. Raymond Raven extraordinary in every way. There is no better surgeon in the country. Honest, professional, personable, and an unbelievable surgeon. Perfect!"

- Doc S.

"I've recommended Dr. Stephan to several family members and they've been more than happy with their results. I wouldn't want to see any other orthopedic surgeon! Thank you Dr. Stephan, you are truly the best out there."

- Krissie B.

"Dr. Jeter is great! Compassionate and quite capable--terrific combination. I highly recommend her for pain management."

- Denise V.

"I heartily recommend OSS Elite for anyone with any hand problem. The outstanding therapists there are so precise and knowledgeable, and fully explain what each exercise does."

- Peter L.

"Two years since I had both knees replaced and all is good! Dr. Shahan Yacoubian does the knee replacements, and he knows what he is doing. His staff is great too and their physical therapy center next door is top notch!"

- Marc S.