The doctors at OSS performs hundreds of knee surgeries every year
The knee is a mobile joint. The knee allows you to walk, climb, sit, kneel, and run. It also happens to be a common joint that wears and tears – either from sudden injuries, repetitive movement, age or arthritis.
Our team of orthopaedic surgeons use the most cutting-edge clinical skills, diagnostic tools, and treatments to take care for the knee anatomy and its associated structures.
Meet the the orthopaedic surgeons who focus on the knee: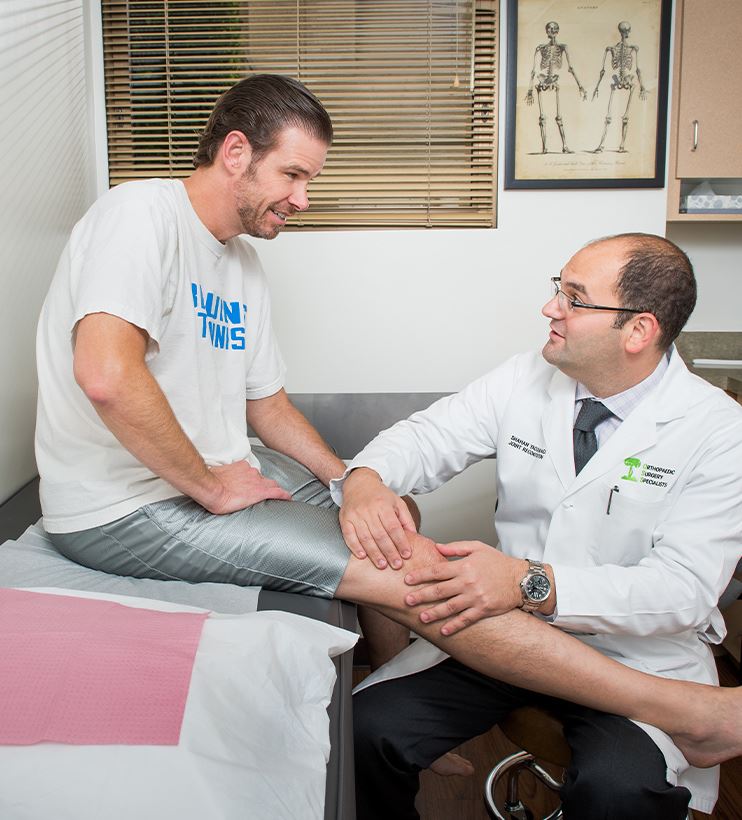 Non-Surgical Treatments
OSS doctors always start with the most conservative approach (in other words, the least invasive to your body and lifestyle) to help you ease the knee pain and improve how you move. Our doctors begin with the most conservative established proven approaches and progress to more advanced approaches as clinically necessary.
Common Surgeries
Total Knee Replacement or Revision Surgery
A Total Knee Replacement (Total Knee Arthroplasty) is a surgery in which the doctor removes the damaged knee joint (cartilage and bone) and then inserts an implant which mimics the original knee joint
Knee Scope Surgery (Arthroscopy)
Knee scope is a minimally invasive surgery that allows doctors to access and visualize the knee joint via small, 1cm incisions. The type of surgeries can include meniscus tears, ACL repair, or Articular Cartilage defects. Our doctors can visualize and repair cartilage defects and remove tissues such as torn menisci. The wound is closed with either stitches or surgical glue. The benefits of arthroscopic surgery include a faster recovery, minimal blood loss, less scarring, and reduced surgical complications.
Knee Fracture Surgery
Fractures of the knee may involve the tibia (shin bone), femur (thigh bone), and/or the patella (knee bone). There are times when these may be treated non-operatively with casting / bracing. Occasionally, surgery may be a better option. Your OSS surgeons are experts in treating injuries around the knee and will help you in deciding the most appropriate option.
Common Problems
You may have one or more of these problems that is causing pain, stiffness and swelling in your knee:
Muscle or tendon strain
Knee dislocation
Tendon inflammation or irritation (tendonitis, e.g. jumpers knee)
Muscle / tendon strains / tears
Ligament sprain (MCL, ACL, PCL, meniscus)
One or more of the bones that make up the knee (e.g., tibia, femur or patella) breaks. A fractured bone is typically considered to be a sudden trauma.
Arthritis (e.g., osteoarthritis, rheumatoid) develops over time or from a previous injury in the knee
Injury from a sport or an activity which causes the knee to move, get dislocated or when the soft tissue (muscle, tendon) around the knee is torn
Previous knee replacement prosthesis fails and cause pain
Complete Approach to Surgery
OSS doctors use many techniques, so you stay safe in surgery. The OSS team will also help you with your recovery. Here is a preview of what our doctors and team do:
Use minimally invasive surgical techniques in the surgery.

Give you clear instructions on how to plan before and after your surgery so you are more at ease.

Perform the procedures in well run, accredited surgery centers or in highly ranked hospitals.

Work with physician anesthesiologists who are highly trained.

Manage the after-surgery short-term discomfort safely.

Monitor your recovery in the office and virtually.

Get you home sooner

. In fact, some hip surgeries can be "same day" surgeries, allowing you to return home later in the day. Of course, we offer the option of an overnight stay if you and your doctor determine it's needed.

Get you connected to

our physical therapy team

, so you rebuild your strength and mobility. Our doctors of physical therapy have excellent training and schooling.

"They focus on getting patients thru and on time; learn their names and you will learn how special they all are."

- TRM

"Thank you for being the dedicated, thoughtful, and compassionate doctor that you are!"

- Kharmen R.

"A month after the surgery she is walking like she hasn't done in years and incredibly."

- Lorena F.

"His expertise and experience give me peace of mind but just as important he takes the time during my appointment to answer any questions I have. His office staff is professional and top notch as well."

- Karen G.

"Two years since I had both knees replaced and all is good! Dr. Shahan Yacoubian does the knee replacements, and he knows what he is doing. His staff is great too and their physical therapy center next door is top notch!"

- Marc S.

"I've recommended Dr. Stephan to several family members and they've been more than happy with their results. I wouldn't want to see any other orthopedic surgeon! Thank you Dr. Stephan, you are truly the best out there."

- Krissie B.
Trusted Medical Sources
To find out more about knee injuries, please visit American Academy of Orthopaedic Surgeons:
Description of The Knee
The knee joint is made of three bones and multiple ligaments. The medial and lateral collateral ligaments protect the knee from side to side motion while the cruciate protect the knee's integrity from forward, backward, and rotatory shifting. The meniscus assists in cushioning the knee, mild support, and creating a smooth surface. The knee is controlled primarily by large muscle groups. The quadriceps straighten the knee while the hamstrings bend the knee.