When an option, patients prefer procedures done in the office.
OSS doctors can do some surgeries and procedures in the office (instead of in a surgery facility) because certain ones only require the OSS doctor to use local anesthesia, the SAME local anesthesia that a dentist uses for a dental procedure done in her office.
The benefit to you is the OSS doctor can do the procedure in an environment that is already familiar to you - the office. The OSS doctor can safely manage the local anesthesia medication and follow the same standard operating room protocols to keep you safe.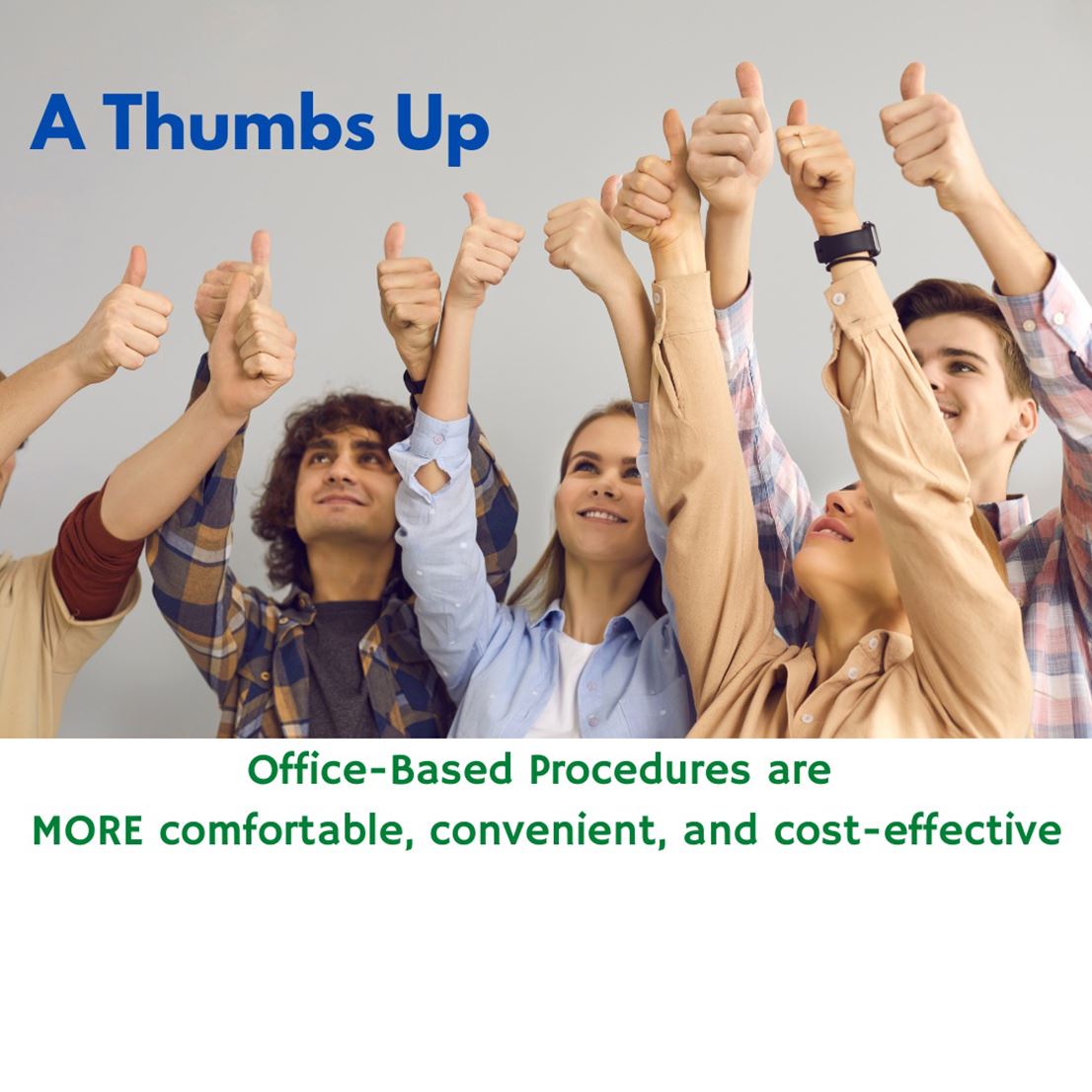 Commonly Performed Procedures
Treatments for the Hand & Wrist
Here are some surgeries that an OSS doctor can do in our office:
Repair a cut (laceration)

Repair a broken bone in the finger

Repair a tendon in the hand or wrist

Repair the nailbed of a finger

Remove a foreign body object or piece of hardware

Remove a mass on a finger (also referred to as excising a cyst on the finger)

De Quervain's tenosynovitis release (affecting the tendons associated with the thumb)

Carpal Tunnel syndrome release (affecting the wrist)
Treatments for Pain Management
Here are the procedures that our Pain Management Specialist routinely does in the office:
Epidural Steroid injections

Joint injections

Medial branch blocks

Peripheral nerve blocks
Advantages
In-Office Procedures are more comfortable:
No IV sedation or anesthesia means no nausea or vomiting
No long waits to be admitted to the surgery facillity
No long waits in the preoperative suite (before surgery room)
No need to stay in the recovery room
In-Office Procedures are more convenient:
No pre-surgery tests
You may take your routine medicine
You may eat and drink before procedure
You may drive yourself home after the procedure
In-Office Procedures are more cost-effective:
No fees for pre-surgery tests
No fees for medical doctor clearance
No fees for facility (hostpital or surgery center)
No fees for a physician anesthesiologist

"(Dr. Korchek) was straight to the point in everything. You can tell he was experienced. He said…you have a torn labrum in the right shoulder. The surgery went well. The pain wasn't bad.. the team was friendly and fun. I was in and out in no time. "

- Jason B.

"I was suffering from an excruciating lower back pain that prevented me from doing any movement, except for standing and walking. After getting an MRI I was told by my Orthopedic Surgeon I had a 7mm herniated disc on my L5, Physical Therapy would not ... "

- Anashe M.

"Today's visit was with Dr Jeter. last time i had seen her was 2 yrs ago and she remembered me and the procedure she had performed great to see her again. May god bless all the doctors here with lots of health so that they may continue to help ... "

- Sako M.

"I was referred here by Dr. Raven for hand therapy due to a diagnosis of De Quervain's Tenosynovitis. I was lucky to have 5 sessions here all of which were the most informational and wonderful experiences. I had a different therapist each time, each ... "

- Nooshi B.

"Dr. Feldman is the best doctor I ever got. Thank you for being the dedicated, thoughtful, and compassionate doctor that you are! You always go above and beyond and work tirelessly towards a healthy outcome. "

- Kharmen R.

"Dr. Jeter is by far one of the greatest doctors I have ever worked with. She is a great listener, trusts her patients, and is positive and proactive. I am grateful she is my pain management doctor!! "

- Marnee T.