OSS doctors perform hundreds of hip surgeries every year
The hip is one of the most versatile and important joints in the body. The hip joint gives you flexibility, allowing for range of motion. It connects the lower part of your body (the lower extremities) to your upper body, and it bears the body's weight.
Our team of orthopaedic surgeons use the most cutting-edge clinical skills, diagnostic tools, and treatments to take care of the hip anatomy and its associated structures.
Meet the the orthopaedic surgeons who focus on the hip:
Watch this lecture given by Dr. Shahan Yacoubian who gives a thorough explanation of hip replacement surgery and recovery.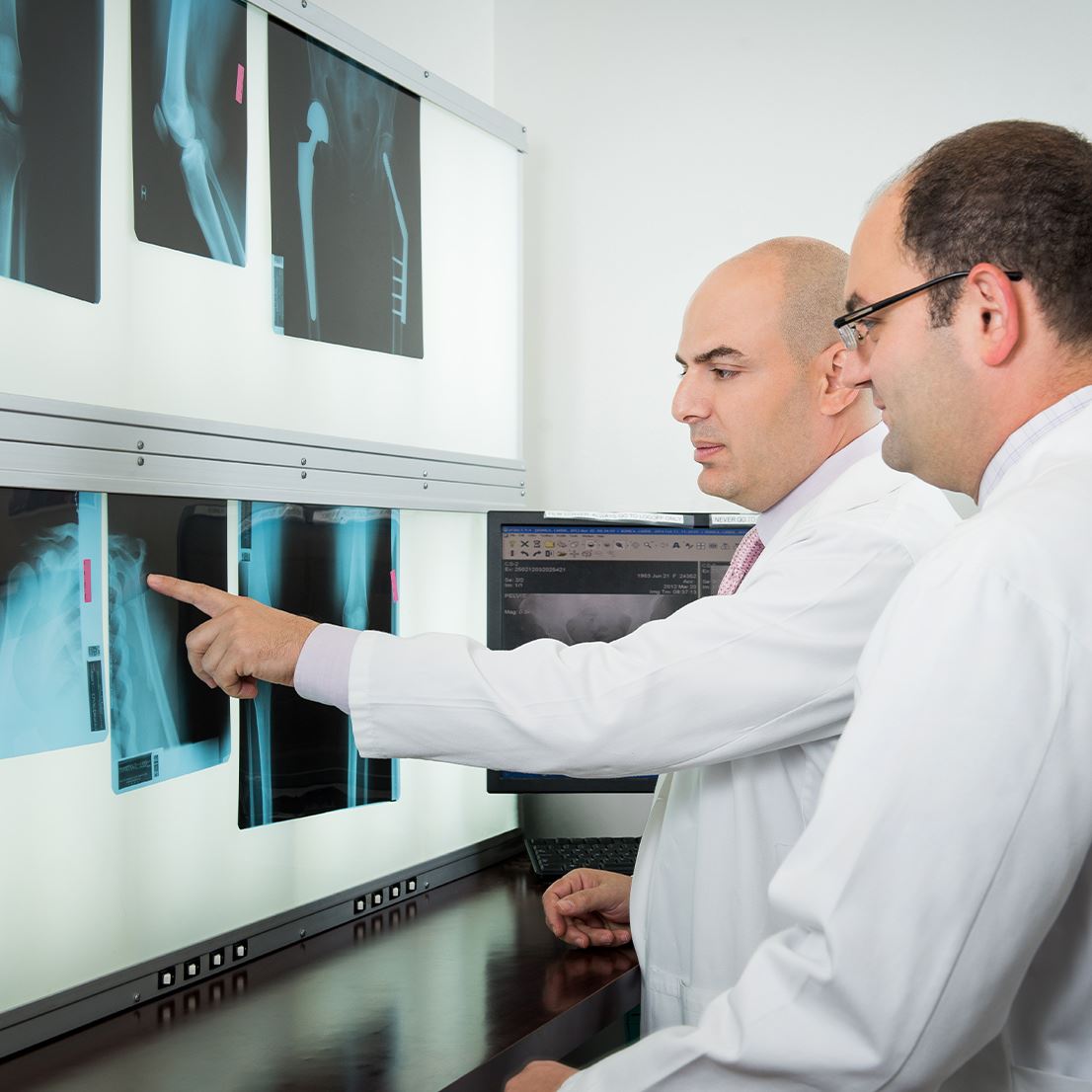 Non-Surgical Treatments
OSS doctors always start with the most conservative approach (in other words, the least invasive to your body and lifestyle) to help you ease the hip pain and improve how you move. Our doctors begin with the most conservative established proven approaches and progress to more advanced approaches as clinically necessary.
Joint Injections
All of the orthopaedic providers - orthopaedic surgeons and orthopaedic trained Physician Assistants at OSS - can administer in-office diagnostic, and often, therapeutic steroid medication into the hip joint to help alleviate pain and discomfort. This is often used to treat hip arthritis, labrum tears of the hip. This medication, given by injection, is a procedure that can be done within minutes in our office. Having an orthopaedic team give this injection therapy is a smart choice since orthopaedic providers have the most training and experience in understanding musculoskeletal causes and conditions.
Common Surgeries
Total Hip Replacement or Revision Surgery
A Total Hip Replacement (Total Hip Arthroplasty) is a surgery in which the doctor removes the damaged hip joint (cartilage and bone) and then inserts an implant which mimics the original joint.
Hip Fracture Surgery
Often, broken (fractured) hips require surgery after a fall. OSS orthopaedic doctors have cared for thousands of patients who have had hip fractures. All of our doctors routinely take care of patients who have suddenly broken their hip.
Hip Scope (Hip Arthroscopy) Surgery
Hip Scope surgery is a minimally invasive surgery that can address a hip problem through very small incisions around the hip. An arthroscopic surgery allows your surgeon to use a long, thin instrument called an arthroscope to see and work inside your hip joint.
Common Problems
You may have one or more of these problems that is causing pain in your hip:
Hip arthritis (osteoarthritis)
Hip joint becomes unstable
Muscle irritation or inflammation
Tendon irritation or inflammation
Labrum tear causing clicking, catching and locking
Previous hip replacement prosthesis fails and causes pain
Bone(s) in the hip break. A fractured bone is typically considered to be a sudden trauma
Complete Approach to Surgery
OSS doctors use many techniques, so you stay safe in surgery. The OSS team will also help you with your recovery. Here is a preview of what our doctors and team do:
Use minimally invasive surgical techniques in the surgery.
Give you clear instructions on how to plan before and after your surgery so you are more at ease.
Perform the procedures in well run, accredited surgery centers or in highly ranked hospitals.
Work with physician anesthesiologists who are highly trained.
Manage the after-surgery short-term discomfort safely.
Monitor your recovery in the office and virtually.

Get you home sooner.

In fact, some hip surgeries can be "same day" surgeries, allowing you to return home later in the day. Of course, we offer the option of an overnight stay if you and your doctor determine it's needed.
Get you connected to

our physical therapy team

, so you rebuild your strength and mobility. Our doctors of physical therapy have excellent training and schooling.

"Two years since I had both knees replaced and all is good! Dr. Shahan Yacoubian does the knee replacements, and he knows what he is doing. His staff is great too and their physical therapy center next door is top notch!"

- Marc S.

"I could not walk I had to hop, my hip was really bad, and was in need of a total hip replacement. I was sent to Shahan Yacoubian. I have not felt so good in the last 5 years. Thank you Dr. Yacoubian you are the best."

- Sheila C.

"Shahan Yacoubian and his associate team of surgeons/specialists are top natch in their field. Not only are they extremely knowledgeable in what they do, they are assertive, friendly and understand the needs of each individual patient."

- Justin S.

"Dr. Shahan Yacoublan is one of the best doctors I've ever dealt with, he performed a hip replacement on me and everything went extremely well. I recommend him if you are looking for an excellent surgeon that cares about his patient"

- Edward C.

"I think the Orthopedic Surgery Specialists group is the best group for orthopedic surgery. Dr. Shahan Yacoubian did a total hip replacement in August 2016. I highly recommend him. I am so grateful."

- Janet L.

"Dr. Shahan Yacoubian replaced my left hip in October. Since my VERY SUCCESSFUL hip replacement, I've met even more of his happy patients. I couldn't have asked for a better experience or outcome. Many thanks."

- Tina P.
Trusted Medical Sources
To find out more about hip injuries, please visit American Academy of Orthopedic Surgeons:
Description of The Hip
The hip is comprised of the femur and the pelvis and is controlled by some of the largest and strongest muscles in the body. The hip, like the shoulder, is a ball and socket joint capable of ranges of motion in all planes of movement. Because of its mobility, strength, and continuous loading, the hip and its associated structures are exposed to the possibilities of injury and hip pain.