Rebuild strength and movement
At OSS, your doctor and therapist will work together for your recovery. Your focus will be on motion + control. We will give you pointers on how to improve your work habits. Our team will teach you prescribed movements to reduce swelling and inflammation in your joints and to lower or eliminate the pain.
OSS is focused on getting you to return to the every day. Therapy services – physical therapy, hand therapy, and chiropractic – can be a real and possible alternative to surgery and prescription drugs.
The OSS team includes specialists who go above and beyond with personality and sensitivity. We have Doctors of Physical Therapy, Occupational Therapists (focused on Hand Therapy), and a Doctor of Chiropractic. Many hold certifications above and beyond what is required.
OSS has set up multiple offices in the Burbank and Glendale to better serve you. Also, if you are using health insurance, OSS will work directly with health insurers to submit the claims. The OSS therapy teams also track your progress - your health outcomes.
1. Make appointment for therapy.
Physical or Hand Therapy. If you are using health insurance, OSS recommends you have a prescription from a medical provider (orthopaedic surgeon, general practioner, physician assistant) for physical or hand therapy so you can use your insurance to help cover the costs.
Chiropractic. You do not need a prescription from a medical provider to get chiropractic care.
2. Get an evaluation from an OSS therapist.
3. Come in for a series of therapy sessions.
In your therapy sessions, you will first work with your assigned therapist. Your therapist will evaluate what movements you are able to do, and use various techniques to improve your function. The second half of your session will include practicing the new exercises with our team.
Do the set of prescribed exercises at home.
4. Graduate (get discharged) from therapy.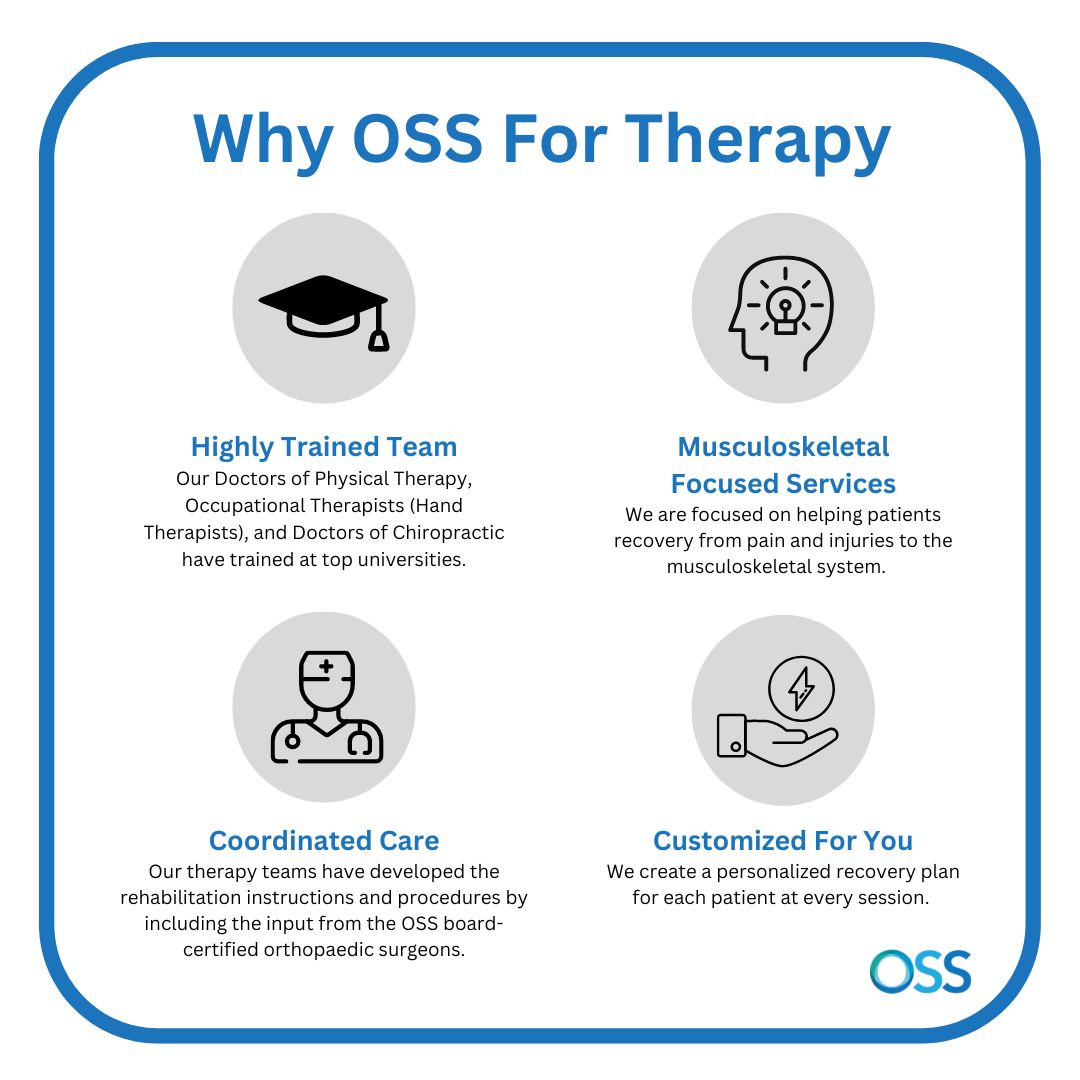 "I have been to this center a few times and have seen different Doctors for different Reasons. All the doctors are in point. You are not just a number here!! Doctors have caring personalities and out of this world knowledge."

- Sako M.

"Dr. Jeter is great! Compassionate and quite capable--terrific combination. I highly recommend her for pain management."

- Denise V.

"This place was referred to me by my doctor after I tore my ACL and I'm very happy with everything. My doctor suggested I try PT before going with surgery. I am 6 weeks in and already walking with no issues, doing lunges, squats and other resistance trainin"

- A R.

"They evaluated me carefully, always listen to my feedback, and adjusted workouts to see my progression, and in the end, I was able to be discharged from treatment and return to my normal activities earlier than planned."

- Brain M.

"Dr. Jeter is by far one of the greatest doctors I have ever worked with. She is a great listener, trusts her patients, and is positive and proactive. I am grateful she is my pain management doctor!!"

- Marnee T.

"OSS is Amazing including all the staff. They are Super Friendly and Helpful! Dr. Jeter's is Awesome and truly listens and understand how much pain you might be in.Thank you everyone and Thank you Dr. Jeter's!"

- Naimah H.