Workers Compensation
OSS can help employees with musculoskeletal injuries and pain.
OSS is in network with different employers' insurances carriers. OSS is ready to help employees if OSS gets permission (authorization) from the employer's insurance carrier.
OSS follows these guidelines:
Our Workers Compensation team will return calls within 24 hours (1 business day) as long OSS is NOT waiting for authorization from the insurance (carrier).

If you, the patient, have NOT heard from OSS, it is best you contact your employer's insurance carrier so the carrier can give you the status on reviewing the proposed evaluation and/or treatment.

If you are an established patient and have not seen an OSS specialist within the last 6 months, OSS will require a new authorization from your employer's carrier (the claims adjuster) before OSS can schedule the appointment.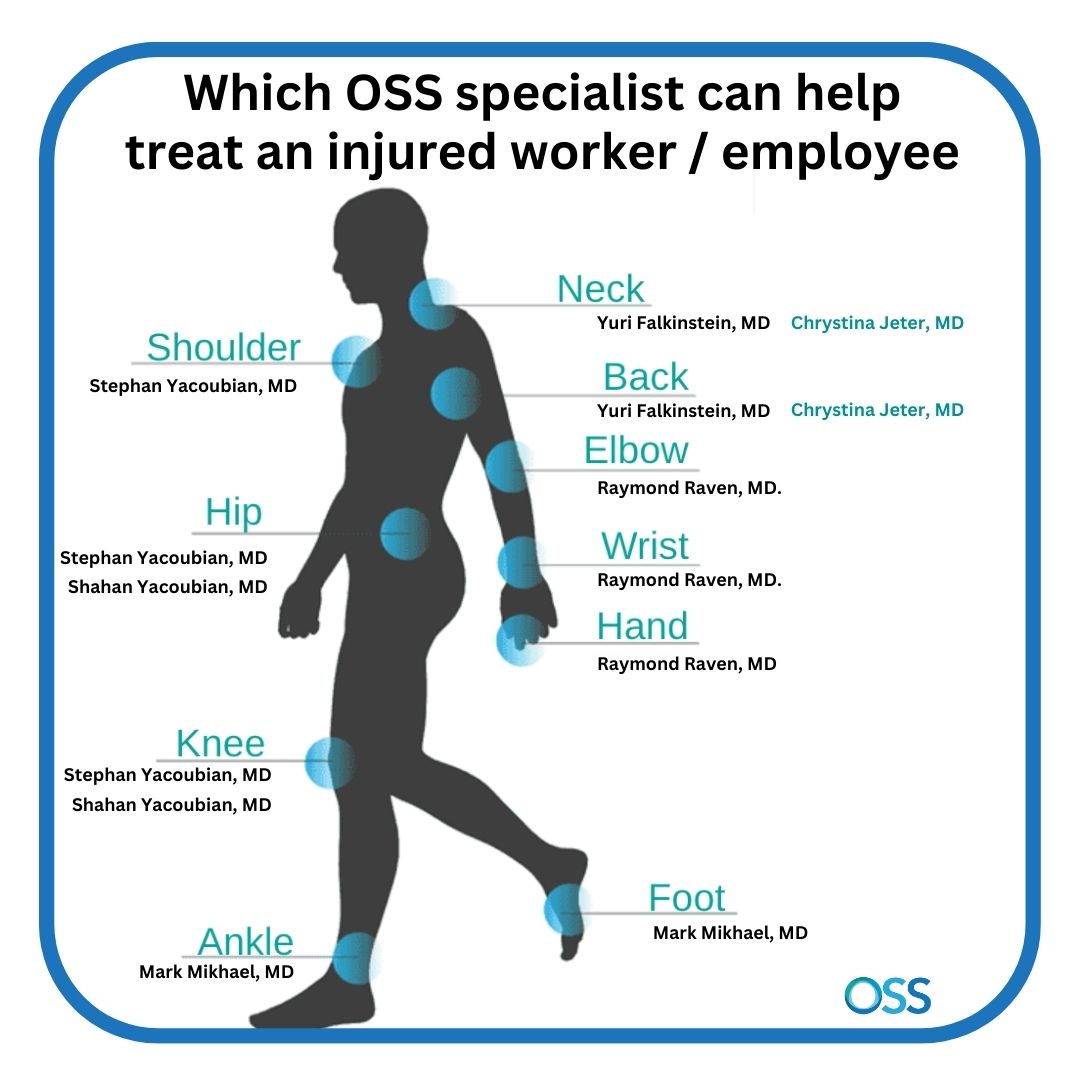 OSS wants to make it easier.
Are you a claims adjuster at an insurance carrier?
Instructions:
Fill out the online Get Started With Workers Compensation form.

Email the medical records to the OSS team AFTER you get an email from OSS confirming receipt of the submitted Get Started With Workers Compensation form.
Are you
an injured worker
and want care at OSS?
Instructions:
Tell your employer you want to start a workers compensation claim form. You'll fill out the first part, and then your employer will fill out the rest. The employer will then submit the claim to the insurance carrier. Next, the insurance carrier will review the completed form and decide to accept or deny the claim. If your claim is accepted, then that means you'll have an open workers compensation claim (meaning, you'll get a 5 to 10 character number to identify your open workers compensation claim).

Ask the claims adjuster at the insurance carrier to check if you can see an OSS specialist. Here, the adjuster will check to see if the OSS specialist is the insurer's plan. If the OSS specialist is in the plan, the adjuster can proceed to contact OSS for your care.

Ask the claims adjuster at the insurance carrier to fill out this Get Started For Workers Compensation form.

OSS requires that your insurance carrier fill out this form (or provide like information) to get started with the appointment. Please note, t

his form requires the adjuster include an authorization number by body part(s) so the OSS specialist can treat you.

Call OSS to book your appointment if the claims adjuster has submitted the a) Get Started for Workers Compensation form and b) your medical records to OSS.

On the day of the appointment, bring any imaging (X-ray, MRI, CT Scan on a CD or DVD) and have it ready to present at the reception. If you don't bring the existing images related to your injury, OSS will have to reschedule the appointment.