Checklist for Appointment
Best is to review so you are at ease
Registration Forms. Be sure to complete the registration or safety forms if you are coming in for a new service or if you are new patient.

Your photo ID. This can include a driver's license, a REAL ID, or a passport.

Your Health Insurance Card and Credit Card. If you are using health insurance, you'll need to bring the physical health insurance card. Regardless if you are using health insurance or self-pay (using no insurance), you should bring an active credit card (American Express, Visa, Mastercard, Care Credit, Discover, Care Credit) to handle any fees (c-o pay, co-insurance, deposit, outstanding balance). If there is a fee, OSS requires you pay before you see the provider or receive service.

Medications: Bring a list of the medications and the dosage (strength) you are are currently taking. Just double check that you include this information in your registration forms.

Coming in for Orthopaedics or Pain Management?

Imaging. Bring any X-ray, MRI, or CT Scan you may have that is related to your injury. Sometimes, another provider may have requested that you get an X-Ray, CT Scan, or MRI of the body part that is causing you pain. If you did, please bring the image on a CD with the report from the radiologist (applies to MRI, CT Scan).
Clothing. Dress in a way that will allow OSS to best evaluate your injury. Try to avoid wearing clothing with metal. Gowns will be available if necessary.

Coming in for Therapy Services?

Physical Therapy. Know that most insurances requires a prescription for a referral from your physician in order to bill your insurance. In the state of California, physical therapy has limited direct access laws, which means you may see a licensed physical therapist without a prescription from your physician for up to 12 visits or 45 days, whichever comes first. After that time, you will need to see a physician in order to continue with physical therapy, regardless of insurance type or self-pay (no insurance). However, your health insurance may or may not cover your visits without the prescription. We would be happy to check if your insurance requires a prescription or not.
Hand Therapy. For Occupational Therapy/Hand Therapy, a prescription is required to be seen by a licensed occupational therapist regardless of insurance type or self-pay.
Chiropractic Care. You are required to have a prescription for this service.
Clothing. For physical therapy or chiropractic, please wear shorts, sweats, and t-shirts. For hand therapy, please wear short sleeve t-shirts.

Coming in for MRI, CT Scan, or DEXA Bone Density Scan?

Read the checklist and safety forms for the

imaging

you'll be getting.


Know where to find

our office

.

Know our

office policies

.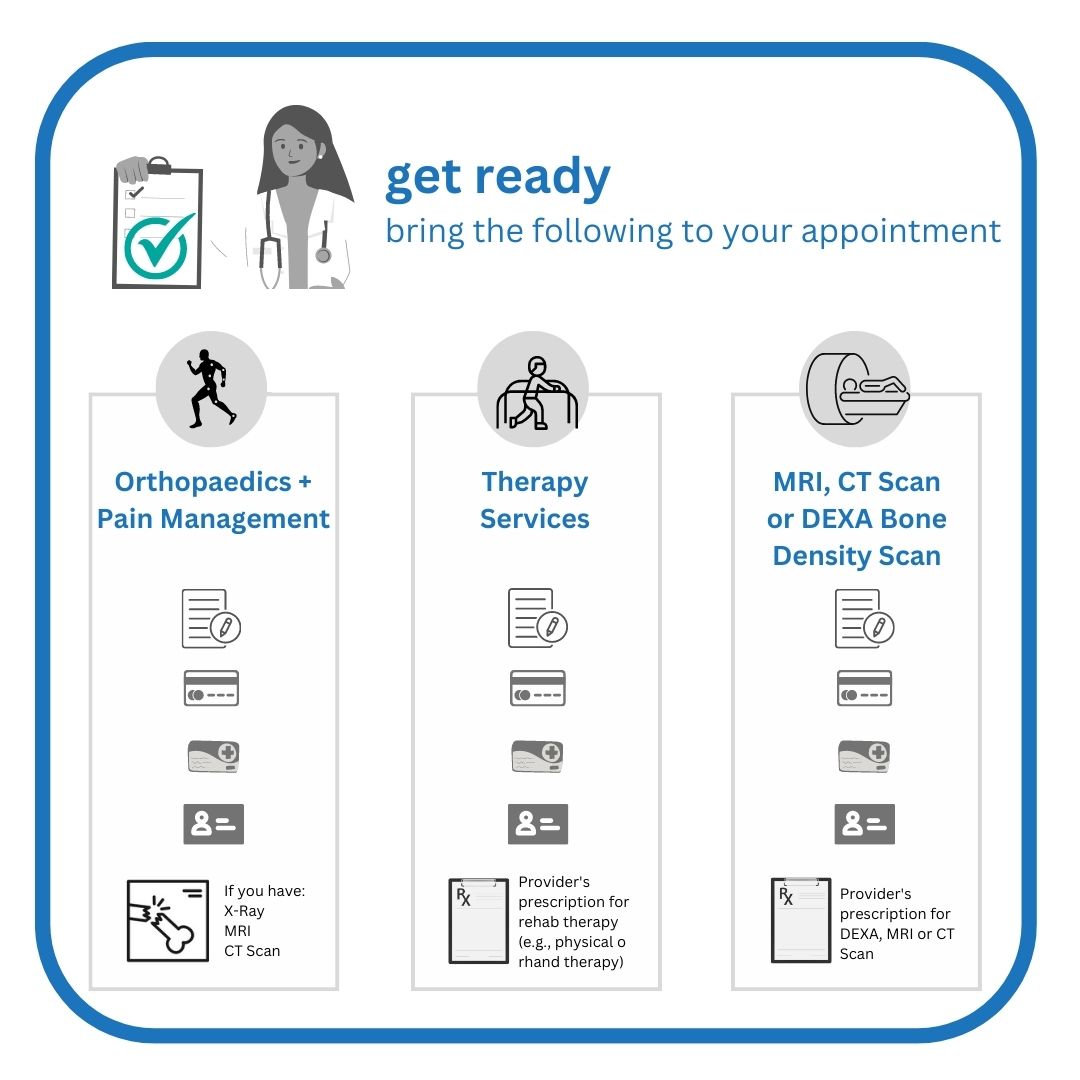 "It was efficient, courteous and helpful. I called and they got me in within an hour of my phone call. I didn't wait long, they gave me x-rays and I saw a doctor within 30 min total. "

- A.R.

"This is my second time here. First time was for me with Dr Mikael. Second time was for my daughter - she went to see Dr Mikael too. She has a broken Fibula and Tibia. The wait time was spectacular today. Fast! His nurse / RN was on it!. As soon as he ... "

- Veronica V.

"Now, November 2016, Dr. Mark Mikhael operated on my right foot. He also was a top surgeon. He spent alof of time going over everything with me before surgery in the office. My foot is healing quickly! "

- Janet L.

"Kudos to Dr. Abby Merrin and PT Alexandria Tayo. They helped me overcome my hip issue and I am now able to walk and run pain free. They were personable, kind and compassionate. Dr. Merrin took the time to explain the benefits of each exercise and how ... "

- Jo-Ann L.

"I was referred here by Dr. Raven for hand therapy due to a diagnosis of De Quervain's Tenosynovitis. I was lucky to have 5 sessions here all of which were the most informational and wonderful experiences. I had a different therapist each time, each ... "

- Nooshi B.

"Excellent experience with the clinic. "

- Paymon B.